Ballinger Presents at PDC Summit 2016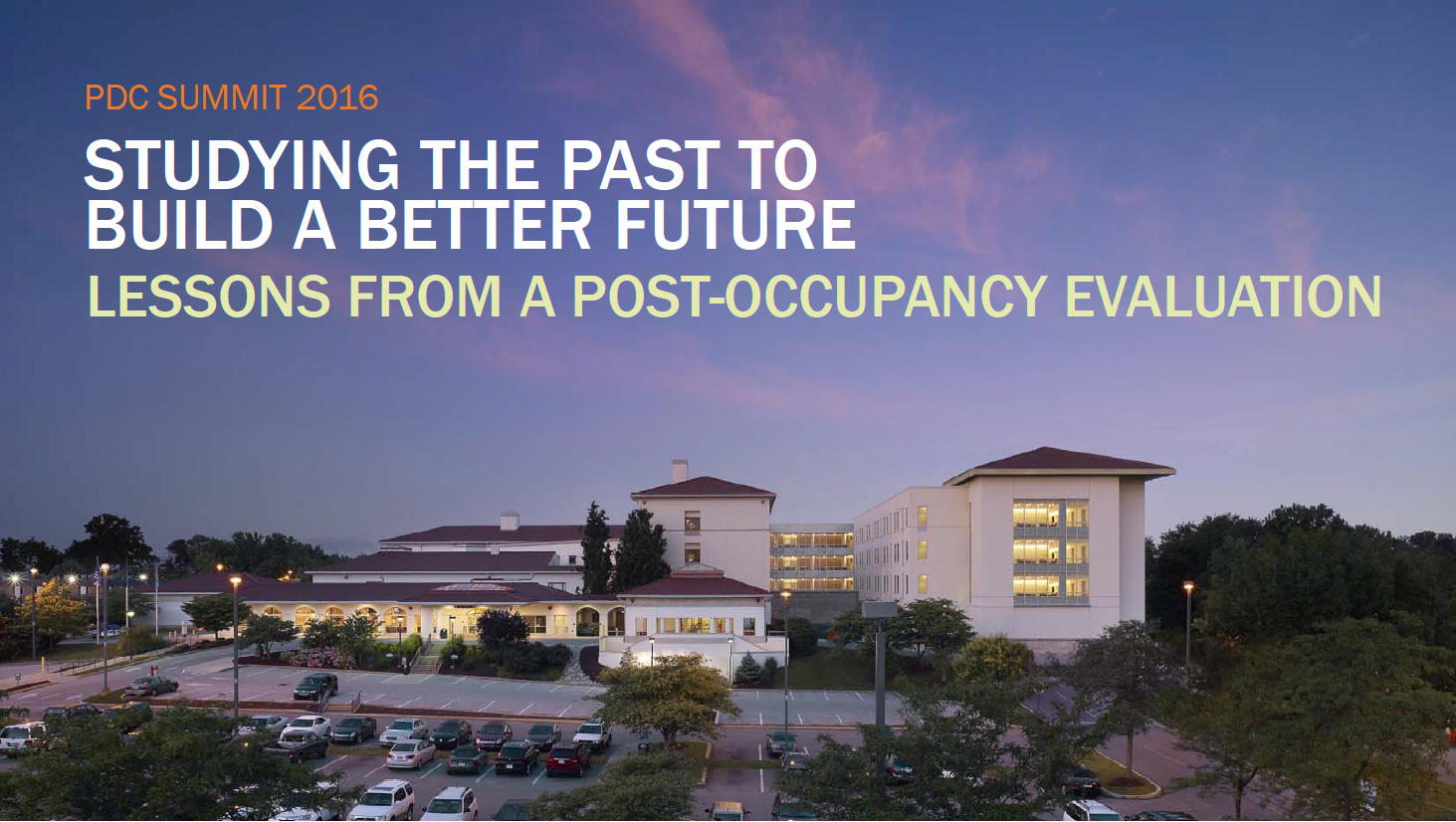 At the PDC Summit 2016 in San Diego, CA, Ballinger's Senior Principal Louis A. Meilink, Jr., FAIA, FACHA, ACHE, along with healthcare planners Christina Grimes & Debbie Phillips, and Chester County Hospital's Director of Medical Services Cathy Weidman presented a Post Occupancy Evaluation (POE) of Penn Medicine Chester County Hospital's new 24-bed Lasko Tower.  Although the primary goal was to gather insights for another bed tower in design, it also offered an opportunity to compare patient satisfaction and operational performance against an existing 20 bed unit, the West Building (built in 1962 and renovated in 1998).
The most significant changes between the existing unit and the new unit included a much larger floor area and a racetrack organization of patient beds rather than a single corridor.  In addition, the new Lasko Tower's design includes decentralized care stations between every 2 patient rooms and more locations for staff charting.  The analysis reviewed multiple items including:
Patient satisfaction with the new room and other amenities,
Staff operations relative to charting and patient care, and
Housekeeping operations relative to material selection and ongoing maintenance.
Because both units had private patient rooms, there was a more direct comparison between fall rates, HCAHPS scores (noise & cleanliness), and rates of hospital acquired infections (HAI).  Since the move, the hospital has seen significant improvements in all categories.
The study assigned a cost/benefit metric to key design considerations including private rooms, decentralized care stations, supply locations, and family amenities.  The study also included a Proximity Index charting the travel distances between staff care stations, patient rooms and supplies.  Insights gained will directly inform plans for the future 96-room patient bed tower design scheduled to be built in 2018.
Data collection method: 117 staff and 50 patient survey responses, onsite observation and onsite interviews with staff (December 2015).
The Ballinger presentation at the PDC Summit 2016 utilized live polling software to gauge the audience's perspectives on several healthcare design topics.  When asked the question "Which intervention had the Highest Impact for the Least Cost?" the audience made up of architects /engineers and healthcare staff responded:  70% Decentralized Station; 18% Noise Reducing Measures; 9% Décor + Material; 3% Size of the Patient Room.