George Washington University

from silos to convergence, a university takes a giant step forward in academic collaboration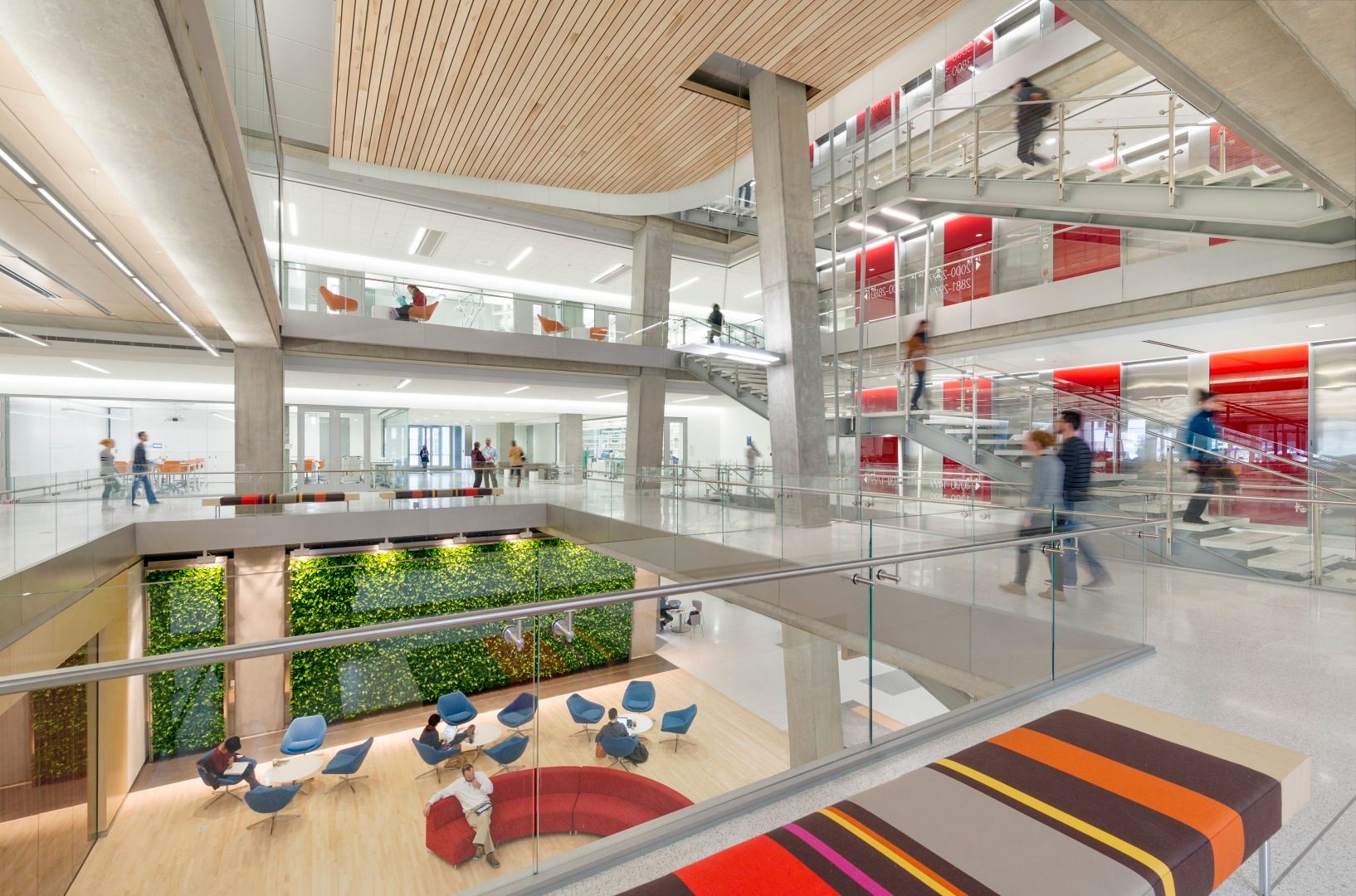 George Washington University
Science & Engineering Hall
In its early days, the university campus was a strictly structured space, with a building for each discipline. Over time, that compartmentalization evolved into co-location, with related departments housed adjacent to one other. However, when George Washington University (GW) needed to co-locate its science and engineering units into a single new lab building, Ballinger seized the scale of the undertaking as an opportunity for an evolutionary jump in campus culture.
The scale of GW's first major new laboratory building in 50 years was, at first glance, daunting on two levels: the size of the building – at 750,000 GSF it would span a city block – and the number of academic units it would house – nine in all. The challenges were daunting, too. The big building needed to feel small to its occupants, give them a sense of community, and give their disciplines a higher profile, on and off campus. The building had to put GW's science and engineering on the map.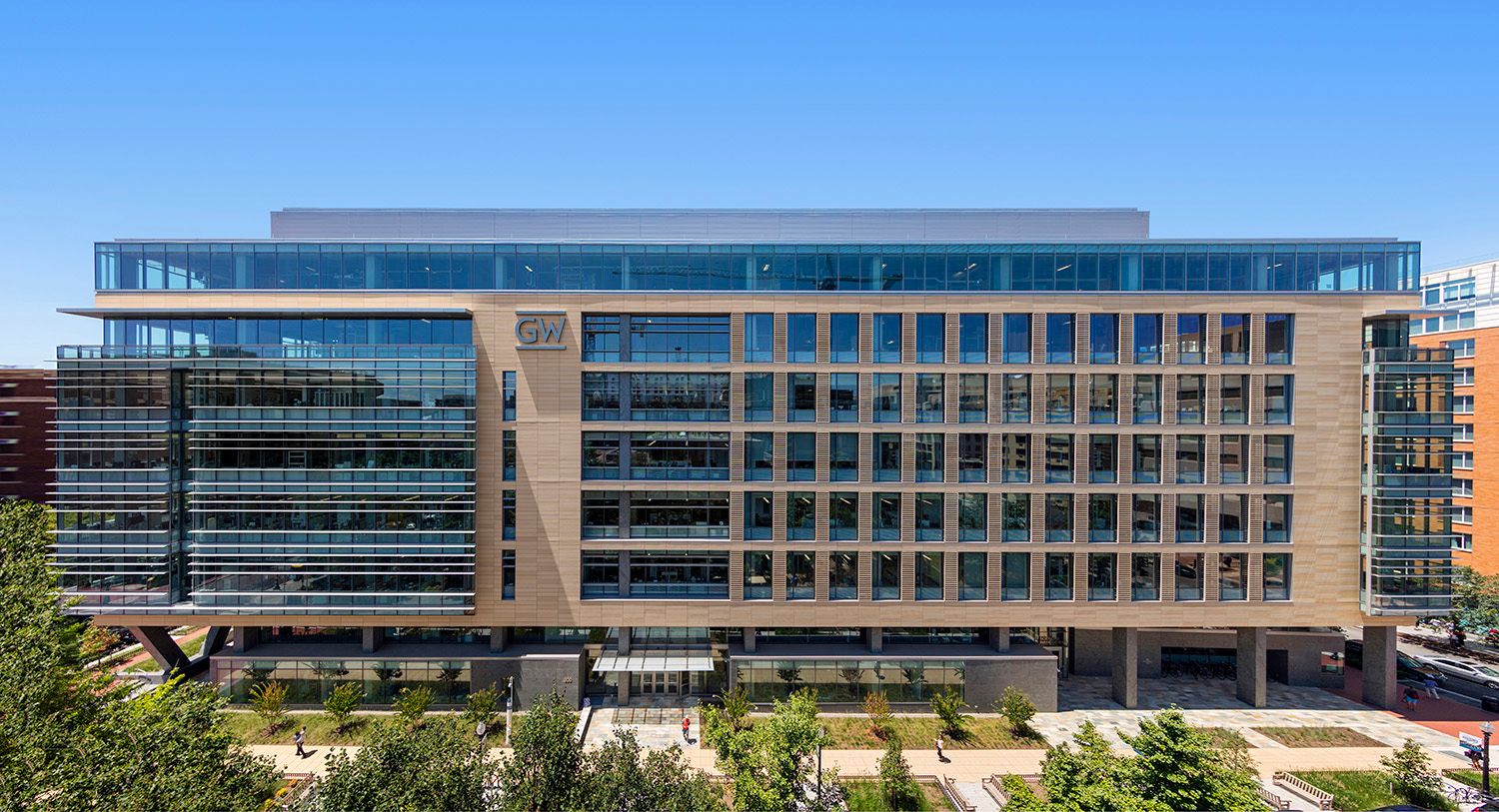 the project's immense scale provides its innovative solution
Ballinger found the design solution within the daunting challenges. The team saw that the magnitude of the project could create a gravitas, signaling that this was a place for serious science innovation. Encompassing many disciplines under one enveloping roof could lead to creative collisions and spontaneous collaborations, under the right working conditions.
Ballinger provided those conditions by organizing the interior into research/teaching "neighborhoods." A ground-floor publicly accessible commons features teaching labs and open work zones for capstone projects, signaling the dovetailing of disciplines as well as the integration of teaching and research.
That strategy continues into the 10-story tower, where different disciplines are integrated by clustering their labs and offices around common spaces called "collaboratoriums." These unique spaces are visible to passersby outside and invigorating to those inside, providing tangible cohorts for people to feel part of.
"The SEH program and design, in essence, has started to fulfill the University's two-fold desire to declare its new strategic mission in science and engineering, and to serve as a hub for science and discovery in the DC metropolitan area."
Can Korman, PhD
Professor & Associate Dean for Research and Graduate Studies, School of Engineering and Applied Science, George Washington University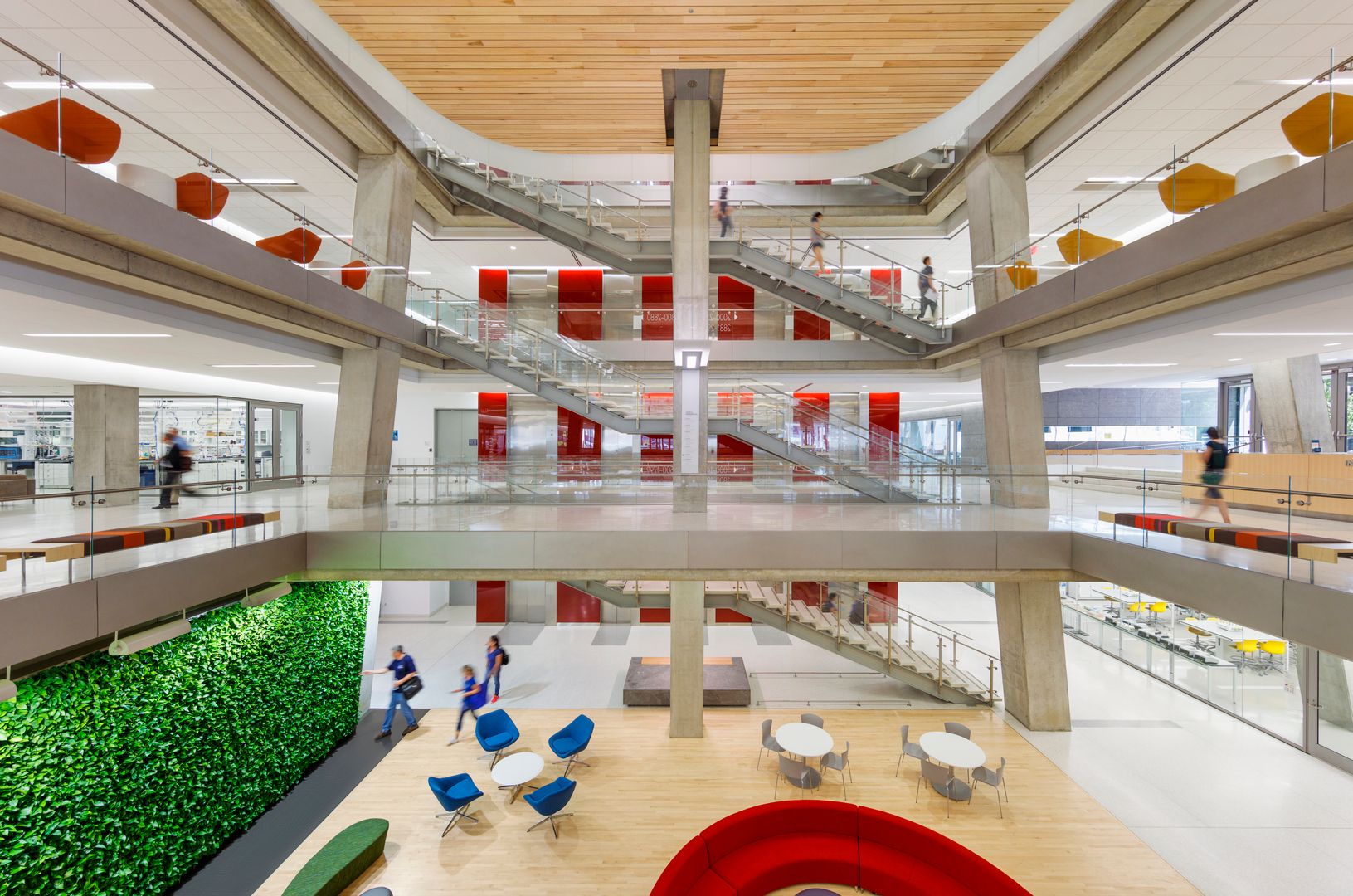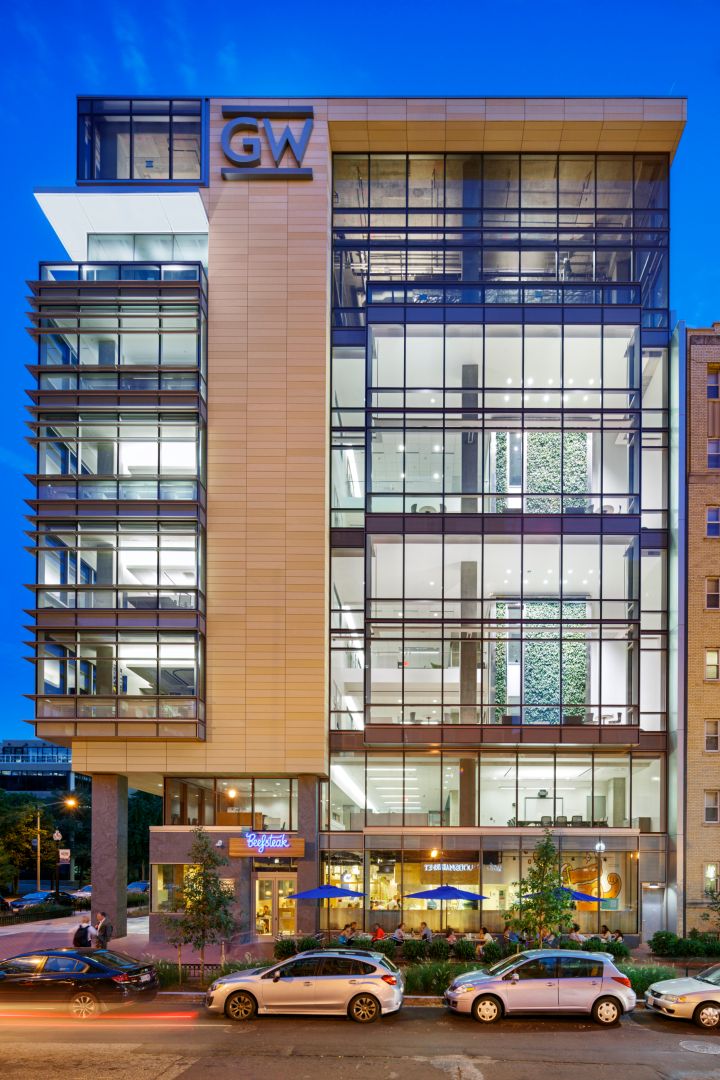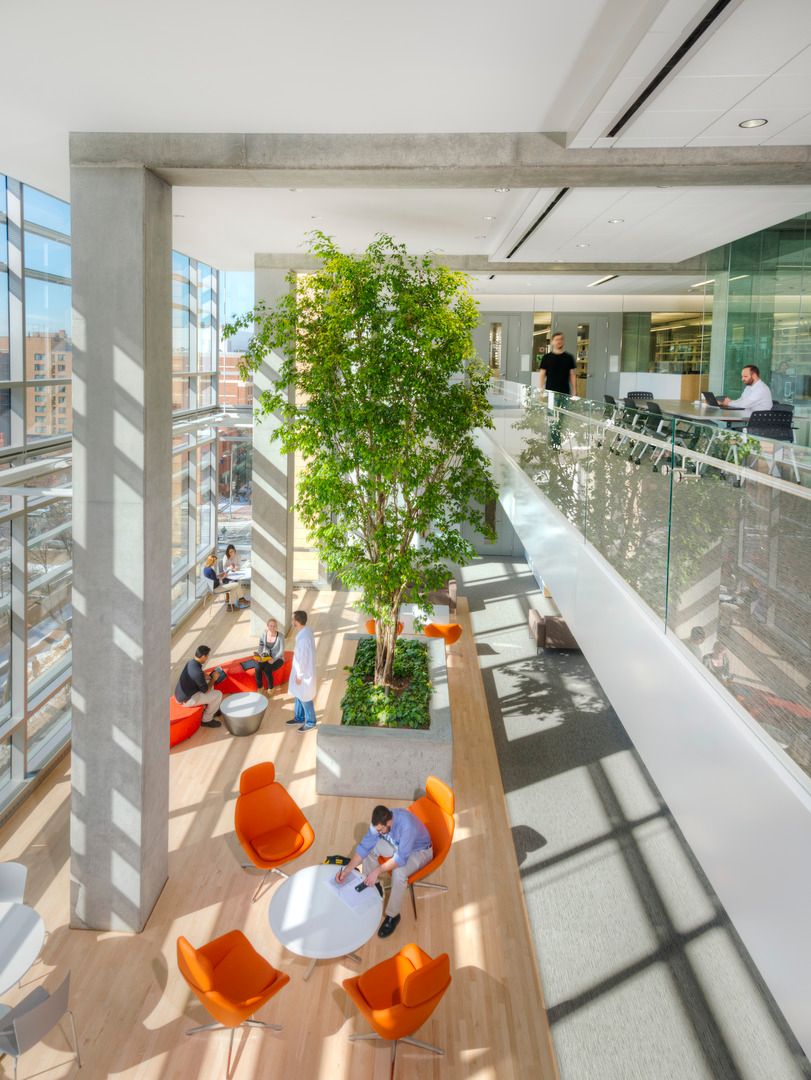 transparency becomes a design strategy and a mission statement
Ballinger responded to the building's vast floorplate by making the space as see-through as possible. Light floods in through the glass façade of the exterior and the glass fronts on all offices and labs, giving occupants access to natural light and creating for them an environment that is legible, navigable, and vibrant.
In GW's new hall, transparency is a clear statement about the sense of community and creativity that comes when academic disciplines are encouraged to converge
"The central atrium is defined by wood floors, a green wall and expressive structure relevant to the science and engineering program. A teaching tower, suspended communicating stair, and red glass elevator core further promote this space as a vibrant collaborative intersection."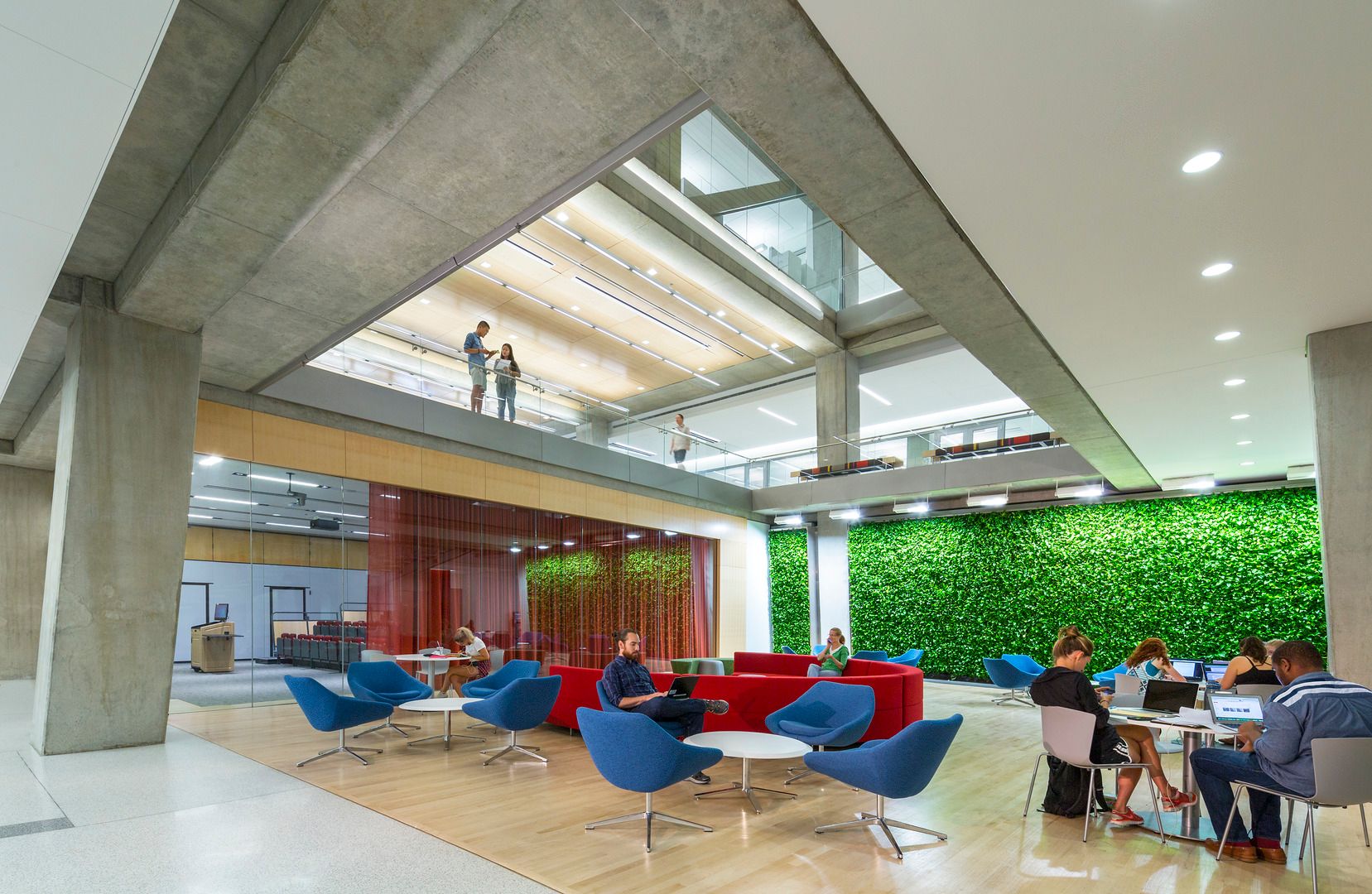 Society for College and University Planning (SCUP)/AIA Committee on Architecture for Education (CAE)
Excellence in Architecture, Honor Award
American Institute of Architects Pennsylvania
Merit Award
American Institute of Architects Philadelphia
Merit Award
Interior Design Magazine
Best of Year Honoree
International Interior Design Association NJ/PA/DE
Best of Year Award
Delaware Valley Association of Structural Engineers
Merit Award
Concrete Foundation Association, National Capital
Merit Award
American Concrete Institute
Merit Award
ABC of Metro Washington
Excellence in Construction Award