University of Wisconsin-Madison

a landmark for interdisciplinarity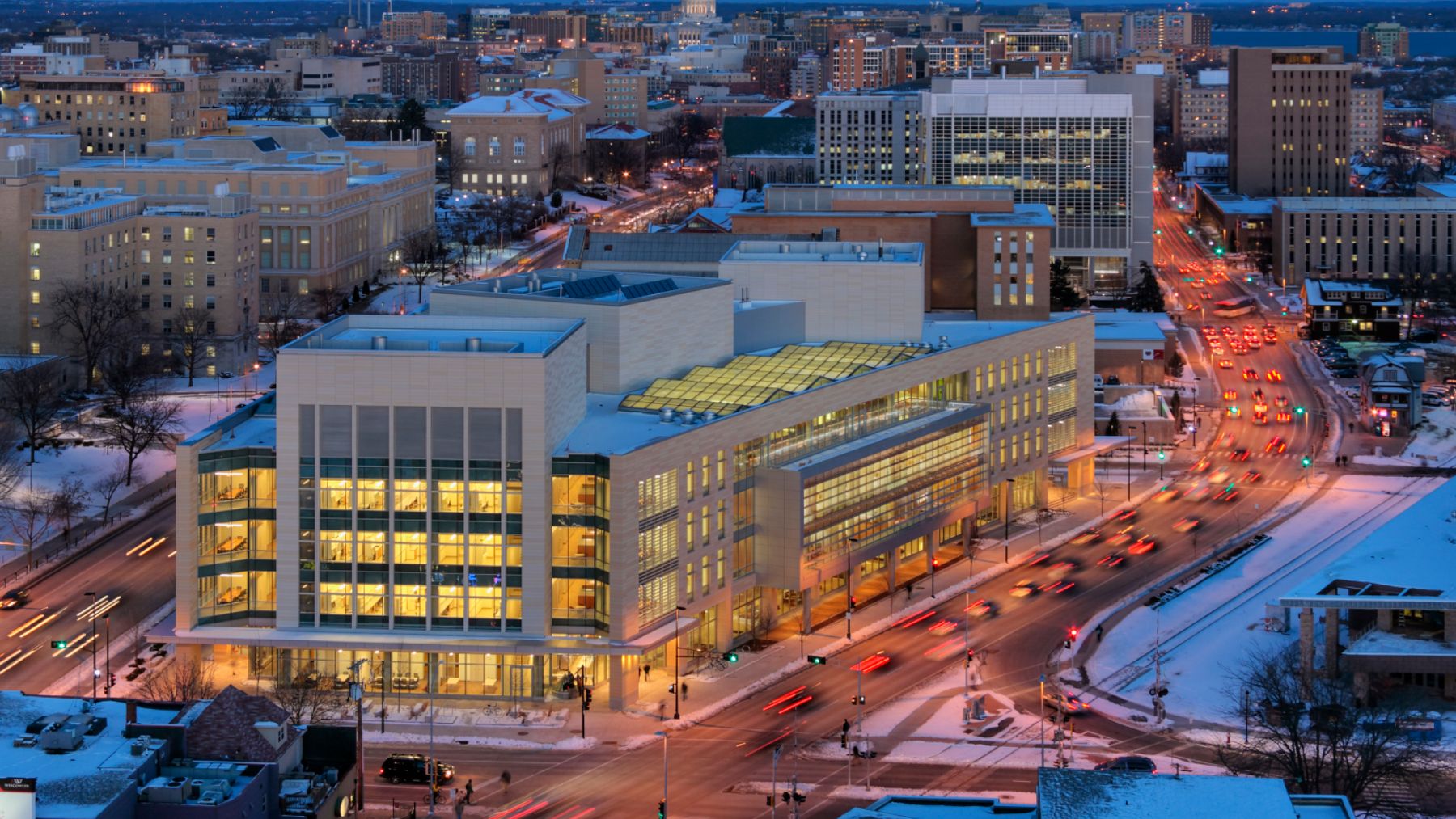 University of Wisconsin-Madison
Wisconsin Institutes for Discovery
The goal of the Wisconsin Institutes for Discovery (WID), located on the University of Wisconsin-Madison campus, is to inspire world-class convergent research across a wide array of engineering and science disciplines in a distinctive, collaborative setting. The 300,000 SF building is designed to attract researchers and spark discoveries toward solving society's most complex biomedical challenges.
The building houses the private Morgridge Institute for Research, the public Wisconsin Institute for Discovery, and the Town Center, a welcoming community space. The architectural challenge was to imagine a new research environment to promote the highest levels of collaborative interdisciplinary research. The building's site situates WID among Madison's major civic and cultural venues, and its design positions WID as an international research hub.
Surrounded by heavily traveled streets, the design concept takes a conventional building with an internalized atrium concept and inverts it – essentially placing the building inside a wintergarden, creating a true town center that attracts people from the broader campus community.
Unlike typical research environments, WID's research floors are designed as neighborhoods and without corridors, producing an open environment that continuously reinforces the collaborative paradigm. Floors are inter-connected with multiple stairs and are visually connected with the ground floor town center through two fully-glazed atriums that extend the collaborative continuum.
"We assembled an extraordinary team to challenge the conventional wisdom about how a lab project should be done, what had to be in a lab building, and how it must be assembled."
George E. Austin Wisconsin Institutes for Discovery, Building Project Director
R&D Magazine
Lab of the Year
U.S. Green Building Council
Innovation in Green Building Award
ASHRAE
Regional Technology Award
ASHRAE Madison
Technology Award
American Council of Engineering Companies
Engineering Excellence Award
American Institute of Architects Wisconsin
Merit Award
Construction Owners Association of America
Project Leadership Award, Gold
Wisconsin Green Building Alliance
Focus on Energy, Award of Excellence
In Business Madison
Project of the Year
In Business Madison
Best Green-Built Project
In Business Madison
Best New Development
Wisconsin Daily Reporter
Best in Show
Wisconsin Daily Reporter
Top Project
Madison Trust for Historic Preservation
Future Landmark Award
Pro AV Spotlight Awards
Best Education AV Project
Digital Signage Expo
Apex & Content Award