University of Maryland, Baltimore County

showcasing the sciences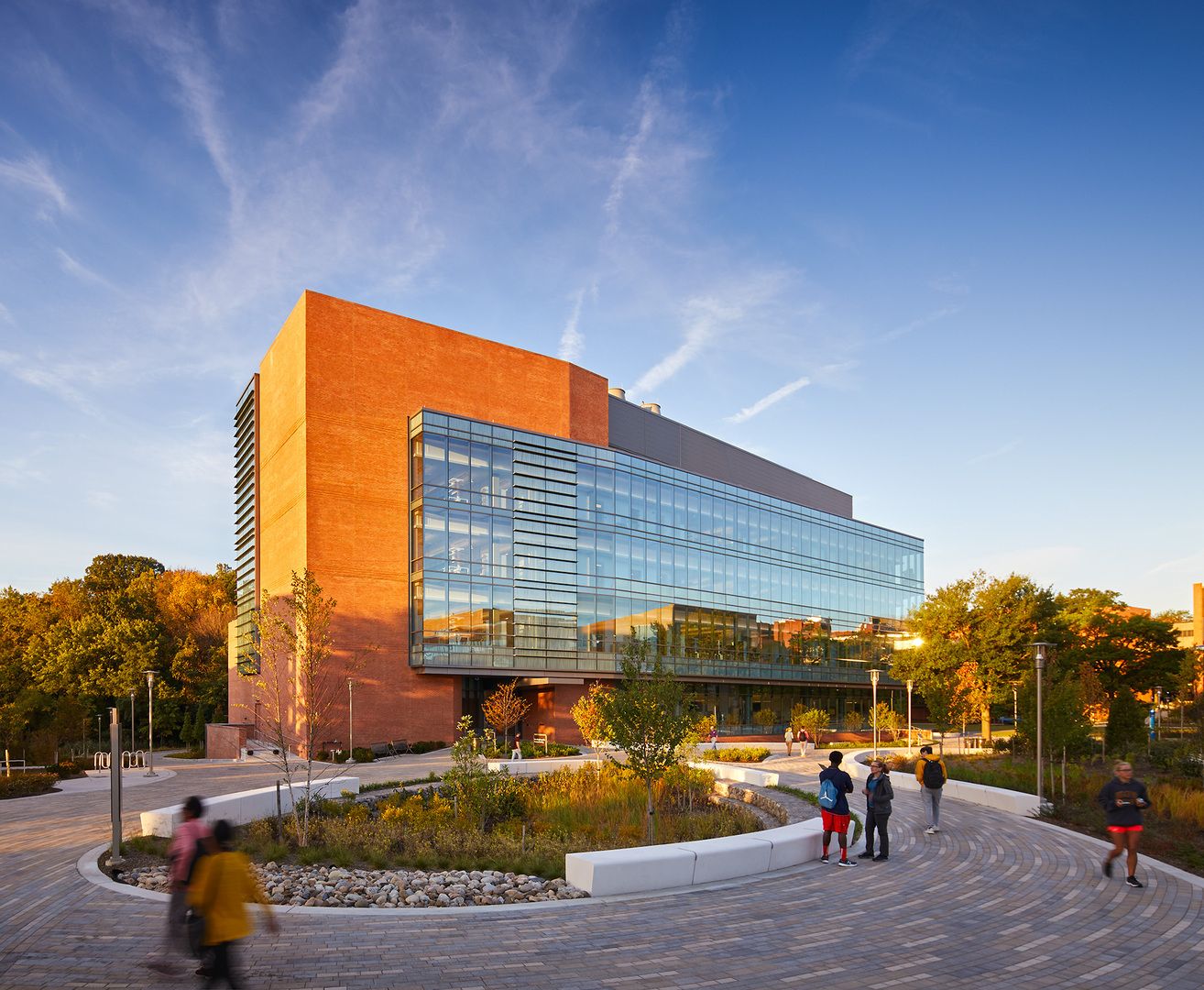 University of Maryland, Baltimore County
Interdisciplinary Life Sciences Building
The Interdisciplinary Life Sciences Building (ILSB) is a center for research, active learning, innovation, and inspiration, supporting UMBC's mission of student success and research discoveries. Located on a pivotal corner between the Commons Plaza and the Quad, the ILSB is visually open to the campus, a symbol of the vibrant research conducted at UMBC. The building is clad predominantly in red brick to integrate with the surrounding campus, but also includes large areas of north facing glass to showcase the research and teaching laboratories to the campus community.
Two thirds of the building's program is dedicated to research and core labs with the remaining third reserved for teaching. The design features a sky-lit, double-height student commons that stretches the length of the building including a monumental stair connecting the first- and second-floor teaching areas. These include four 24-person multi-disciplinary teaching labs and eight active learning classrooms accommodating 45 to 90 persons each. An Environmental Systems research lab is located at the northeast corner of the building, visibly positioned as a demonstration of active science. Walls between common space and adjacent lab areas are glass, providing views into research and teaching space while maintaining physical separation and security. On the third and fourth floors, there is full glazing to the north and large windows overlooking a green roof to the south to provide abundant natural light. Specialty spaces include a vivarium, a cGMP (current Good Manufacturing Processes) lab training facility, and an observation lab to study active learning classroom pedagogy and techniques.
The building is designed to achieve LEED Gold certification. The orientation of the building's glass façades, a green roof, chilled beams, stormwater management, and an innovative "air share" system that reduces energy consumption all contribute to the building's sustainability. The building commons features a dynamic public art installation by Volkan Alkanoglu inspired by studies of flight and biological structure undertaken at UMBC.
"As an end user and Dean of Science, I can honestly say that the ILSB is more than just a building. It embodies the ethos of UMBC, a place where solutions are found through a convergence of talent and effort in individuals from all walks of life."
William R. LaCourse Dean, College of Natural and Mathematical Sciences, University of Maryland, Baltimore County
American Institute of Architects Philadelphia
Merit Award
ASHRAE Philadelphia
Technology Award
ASHRAE Mid-Atlantic
Technology Award
ASHRAE
Second Place Technology Award
International Interior Design Association NJ/PA/DE
Best of Education/Institution
American Institute of Architects Maryland
Institutional Architecture, Jury Citation
Construction Owners Association of America
Project Leadership Award