Fascitelli Center for Advanced Engineering Awarded LEED Silver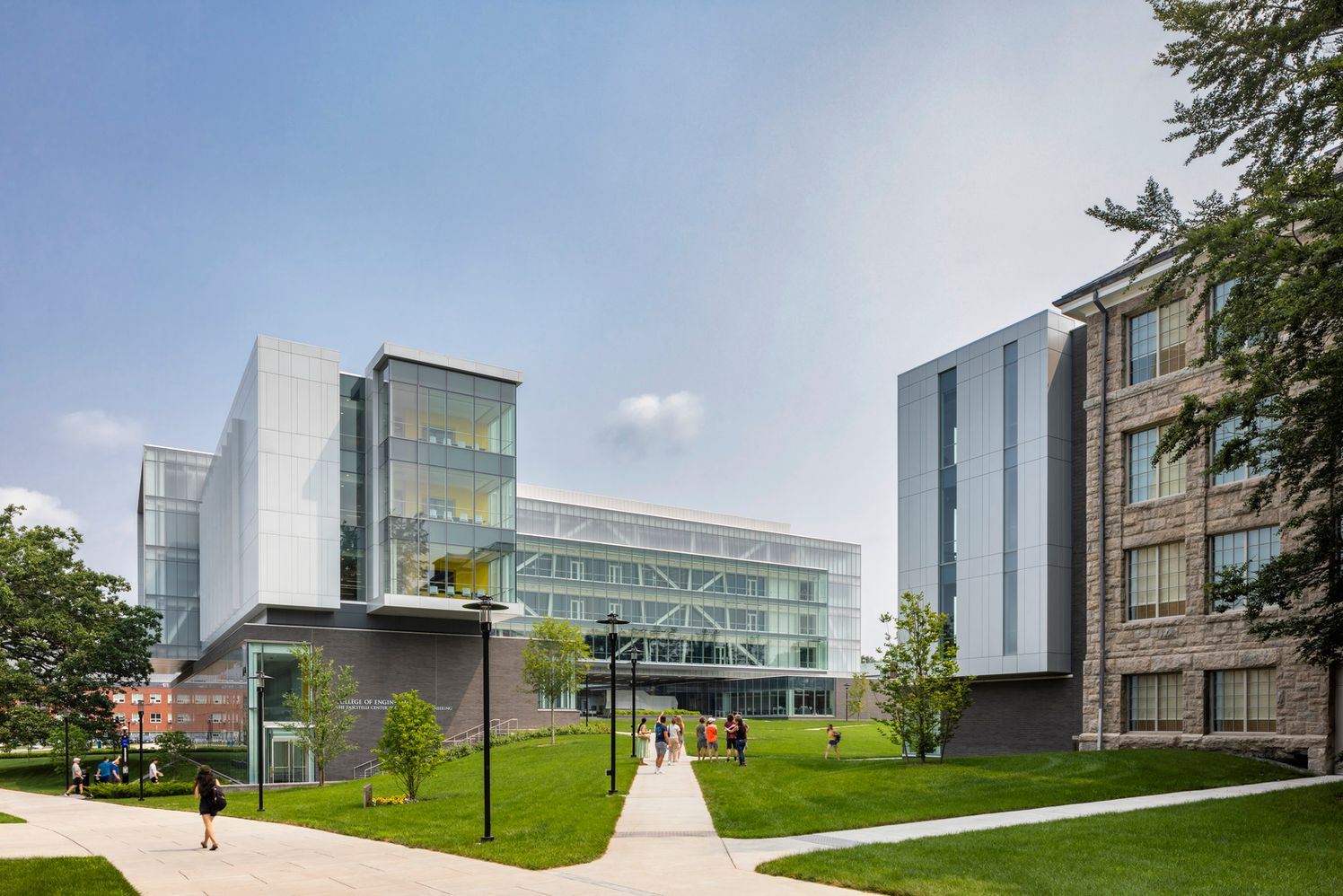 The Fascitelli Center for Advanced Engineering and Bliss Hall at the University of Rhode Island were certified LEED Silver by the U.S. Green Building Council. The Ballinger-planned, designed, and engineered buildings house the University's College of Engineering.
Reporter Mary Serreze from the Providence Business Journal spoke with Paul DePace, URI's director of capital projects, to discuss the buildings' recently obtained LEED Silver status.
Excerpted from Providence Business Journal
The University of Rhode Island is touting its sustainability practices with an announcement that its new College of Engineering buildings have obtained LEED Silver status.
LEED stands for Leadership in Energy and Environmental Design, and LEED certification provides independent verification from the U.S. Green Building Council that a building meets a set of rigorous "green" standards.
The Fascitelli Center for Advanced Engineering, which opened in the fall of 2019, and Bliss Hall, a historic structure that was newly renovated, are now the 14th and 15th buildings to obtain LEED status on the Kingston Campus. That includes five buildings that are certified LEED Gold, the highest possible rating.
"Importantly, LEED certification translates into higher energy efficiency rates and big energy savings for the University and the state," said Paul DePace, URI's director of capital projects. In a statement, he added that sustainable buildings and spaces "also make the University a nicer place to be for all of us."
Providence-based Dimeo Construction Co. and Philadelphia-based Ballinger architects teamed up for the two building projects, and Hill International served as project manager.
The Fascitelli Center was the largest construction project in the University's history. The six-story, 183,500 square-foot building features a glass exterior, allowing natural light into core spaces. An efficient electrical system includes sensors that control lighting, the university said in a news release.
The roof was specified with white material to prevent any "heat island" effect. Landscaping plants were chosen to require very little water. The proximity of both buildings to bus and shuttle routes "was also significant in the sustainability calculation of the projects," the university said.
The 38,000 square-foot Bliss Hall was gutted to the steel frame and stone exterior and completely renovated. A 15,000 square-foot addition was built on the north side with energy-efficient mechanicals. Builders used low-emitting materials and designed the ventilation system to introduce plenty of fresh air. Many other features used the latest in green building technology.
"Rhode Island has set a goal that state-funded projects should meet LEED Certification status," said Jim Devol, project manager for Hill International. "With these two buildings URI has gone beyond that."