Q&A: Digging into the Sustainability Action Plan 2.0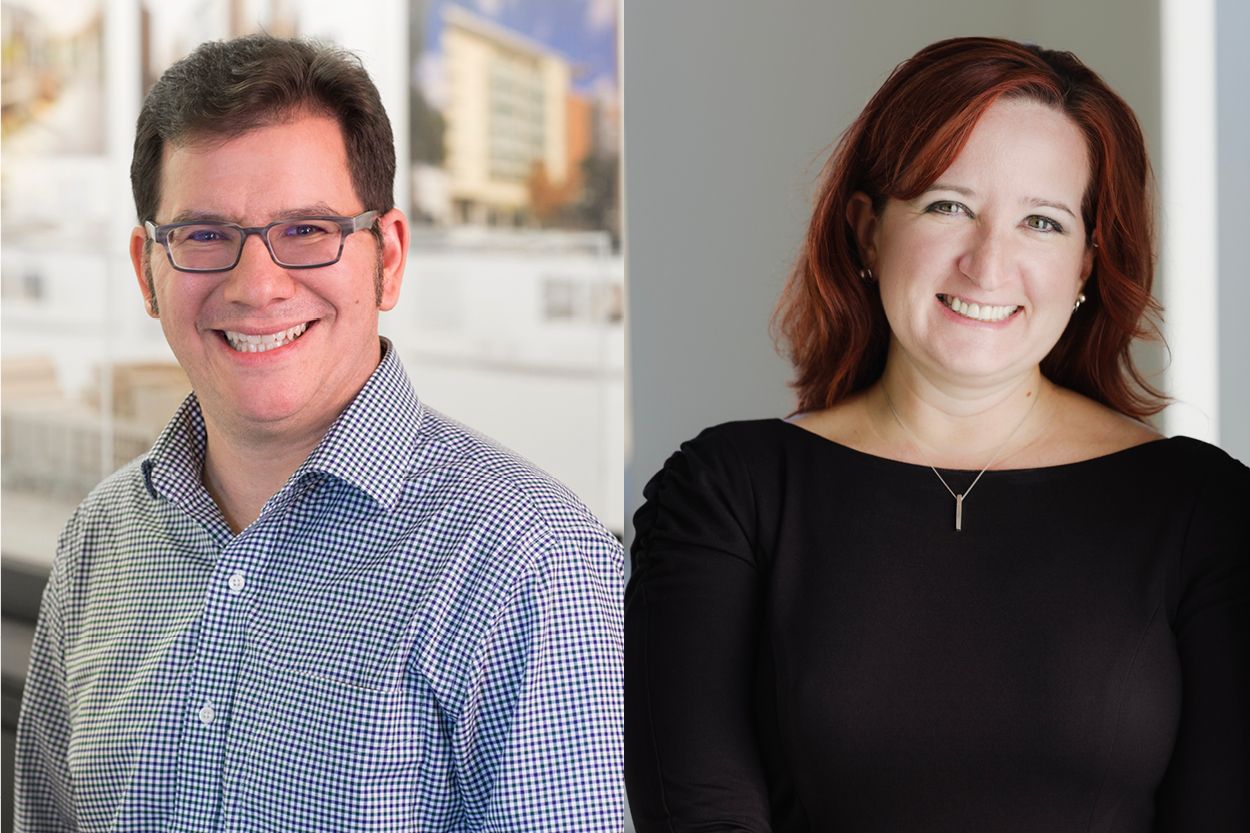 Earlier this month, Ballinger released its Sustainability Action Plan (SAP) 2.0, a firmwide roadmap for championing sustainable design. Both Senior Associate Josh Abbell, AIA, LEED AP BD+C, and Principal Angela Fante, PE, LEED AP, were involved in the document's evolution and sat down to offer a few behind-the-scenes observations on the SAP 2.0:
What was the motivation for creating an SAP 2.0?
Angela Fante (AF): Because Ballinger designs large, complex buildings, we've always been aware that we make a significant impact through our sustainable design. However, today's climate challenge has necessitated a deliberate, swift, and committed shift away from the singular, "human-centric" focus of traditional design practice toward a holistic, "ecosystem-centric" approach. As our staff returned to our studio after the COVID-19 pandemic, we were excited to leverage in-person collaboration to advance fresh firm-wide initiatives.
Josh Abbell (JA): In early 2022 it was clear we were seeing renewed focus among institutional and corporate clients on developing sustainability goals and plans. At the same time, Ballinger engaged in a larger visioning effort to assess and affirm our practice's core values. The term "stewardship" emerged as a fundamental responsibility of our firm and our profession, and it dovetailed with the sustainability discussions among our internal multi-disciplinary group.
AF: And that was a really important moment. We'd been doing many of the things outlined in the plan—and some of them for a long time, quite successfully—but it was crucial to get everyone aligned in support of the need for this plan.
It's a succinct document—how was the final content decided upon?
JA: We developed the Ballinger SAP 2.0 to be a functional, "quick-start" guide representative of our interdisciplinary design approach. The intent of the plan is to provide an orientation to our sustainable design commitments, outline a sustainable design process and workplan to support our working process, and provide resources, standards, and strategies for deeper explorations of project sustainable design goals. We set a limit of five pages to ensure the document was quickly accessible to everyone in the office. In the spirit of a quick-start guide versus a detailed "manual," we also felt it was critical to have a diagram that visually illustrates how a reader might implement or integrate a sustainable workflow.
AF: It's also a living document that evolves with our progress, with the ultimate goal of shifting away from solely following industry-prescribed tracking methods to developing the methods, products, technologies, and design approaches that will lead the industry by example.
Who was involved in creating the SAP? How was the group formed?

JA: Our Sustainability Working Group (SWG) is a multidisciplinary group of professionals focused on consistently and comprehensively advancing sustainability across Ballinger's work. Developing the SAP pulled together members of the SWG and included focused conversations with each of the design disciplines within our studio. There was also an internal, firm-wide survey to understand what we were already doing—and what we might do better. These conversations included our operations department and a discussion of incorporating sustainability concerns into firm policies and management. Ultimately, we really wanted to filter the effort through all levels of the office. I don't like to use the terms "top down" or "bottom up," and I think it truly was a more "middle out" effort. That said, one of the underlying keys to the SAP development effort was the endorsement and ongoing support of firm leadership.
What was something that surprised you during the process of creating the SAP—any new information, perspectives, etc.?
JA: The discussion around the experiential and human-centered impacts of buildings had some enlightening angles that may not have been part of an SAP several years ago.
Energy and water and measurable efficiencies get a lot of the attention with sustainability rating systems, and at the end of the day people who go through those processes are held to a level of rigor and responsibility that is important. But the experiential quality of our buildings is critically important in evaluating their success. These are things like creating connections with nature to promote healing and wellness in healthcare spaces; creating opportunities for interaction, knowledge sharing, and community in academic spaces; and designing spaces that are visually, thermally, and acoustically comfortable in all of our work. Working in an integrated team can highlight how very different disciplines—interior design and engineering, for example—might bring to a conversation about qualitative acoustic comfort.
AF: That interdisciplinary approach and dialogue will be critical to reach beyond traditional channels and processes, which is the next step toward "regenerative design." Beyond the day-to-day work of our firm, it will necessitate broader engagement of partnership with industry and research towards the discovery of new fuel sources, materials, and building performance monitoring techniques, as well a deliberate expanding of our mindsets to think beyond traditional limitations imposed by standard practice. It requires a shift in the industry's perspective to understand the breadth of what new design practices are possible, and it will necessitate broader engagement with our communities as part of an equitable and inclusive design process to ensure all voices are heard.
"The experiential quality of our buildings is critically important in evaluating their success."
How long will it take to implement the new workflow?
AF: Many aspects of the plan are already underway and others can be integrated into our workflow immediately. The underlying message of the SAP (and most sustainable design guidance out there) is to initiate a sustainable goal-setting discussion at the outset of a project. The SAP lays out the questions and issues to investigate. Goals and values established early on a project will inform the design process synergistically. The more these goals permeate the project discussions, the more integral and shared they will become.
JA: That said, the plan has some aspects that will need time for implementation. As we move forward in advancing sustainability and performance goals, we expect successes and lessons to be drawn from the process. Our experience and technical skills will evolve as we go; the key is to keep moving forward and advancing our efforts. It's an essential feedback loop: completed projects will raise the sustainability threshold for our new projects.
What's the next step for sustainability in general at Ballinger?
JA: The next step I see for sustainability at Ballinger is further integration of our interdisciplinary working process. We have a great and fairly unique opportunity as a single-location interdisciplinary to bring our skilled and passionate team of architects, designers, engineers, and planners even closer together.
AF: Each person at Ballinger is knowledgeable, creative, experienced—we have the power to shape sustainability across disciplines through the composition of our very project teams. It's an incredible asset, and one that shouldn't be underestimated. The creativity and unique perspective each person brings to their project work will be an invaluable contribution to addressing the significant challenge we all face.