Ballinger Announces Expanded Firm Leadership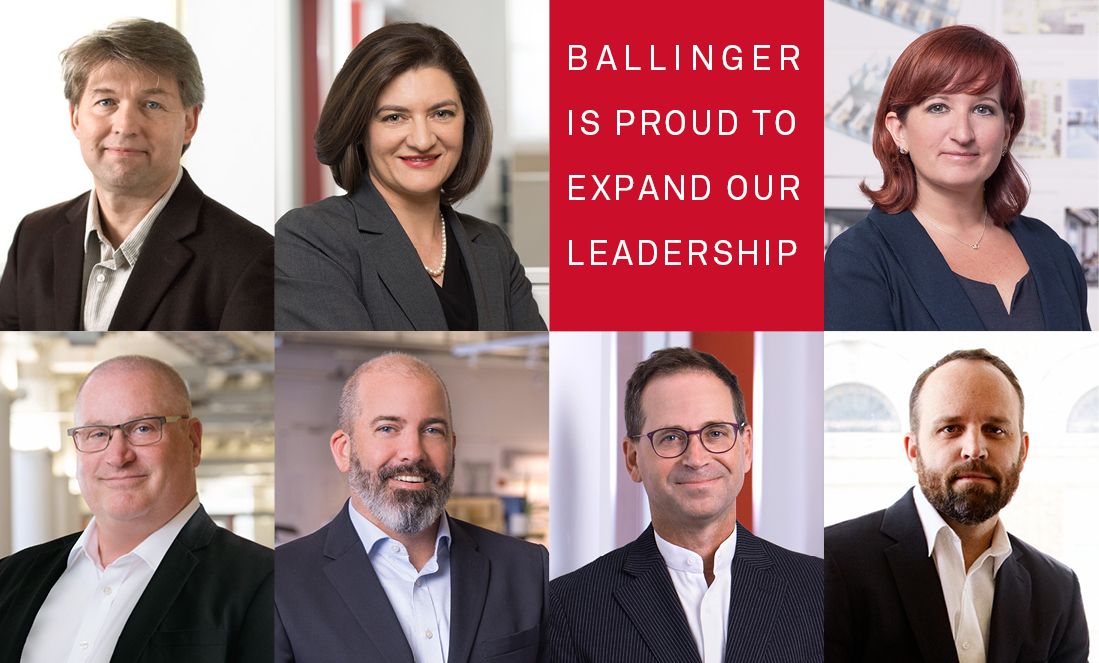 In the spirit of continued firm growth and evolution, Ballinger is proud to expand our leadership. We are delighted to announce seven new Principals and shareholders of the firm.
Since joining Ballinger in 1999, Steve has served in a variety of firm leadership roles including Architectural Studio Leader and Senior Project Designer. He has worked in diverse market sectors and collaboratively led the design of some of the firm's most prestigious commissions. He is a frequent speaker at industry forums across the country and will continue to advance the firm's design portfolio in higher education.
Erin Nunes Cooper AIA, ACHA, LEED AP
Erin joined Ballinger in 2011 and has served as Director of Project Management as well as Senior Project Manager for many of the firm's most significant healthcare projects.  Erin has been a spokesperson for Ballinger and the healthcare industry in print and on-air forums, and a mentor for women in design. This year she was named to Healthcare Design Magazine's HCD 10. In her role as Principal, Erin will continue to cultivate the firm's healthcare practice.
Angie joined Ballinger in 2000 and emerged as a leader within the firm, first as the Structural Group Manager and now as Chief Structural Engineer.  Her focus on technical expertise, interdisciplinary coordination, and quality control has been key to the successful completion of many complex building and renovation projects. In addition to her engineering leadership, Angie will be expanding her role in client engagement across market sectors.
Tom joined Ballinger in 1997 and has served in leadership roles including Architectural Studio Manager and Senior Project Manager. He has guided diverse healthcare clients through complex renovation and expansion initiatives, orchestrating project teams and facilitating creative design solutions. Tom will continue to manage important client relationships while furthering the expansion and evolution of Ballinger's healthcare portfolio.
Since joining Ballinger in 1996, Dennis has become a leader in sustainable systems design, applying his expertise to the corporate, academic and healthcare sectors.  Having served as Director of Engineering, he has cultivated the skills of junior engineers, promoted cross-disciplinary collaboration, and been a champion of flexible, efficient engineering solutions. As Principal, Dennis will be expanding the firm's engineering portfolio across market sectors.
David joined Ballinger in 2019 as Principal after 20 years with KieranTimberlake, where he led many award-winning projects at colleges and universities across the country. He has been published widely, is a frequent lecturer, and has been a juror for multiple award programs. David will concentrate his efforts in the firm's higher education sector with particular emphasis on client relationship and design management.
Rob joined Ballinger in 1996 and as Associate Principal and Studio Leader has provided leadership through innovation in design and project delivery for some of the firm's most prestigious academic commissions. His approach to design balances aesthetics and functionality with local context to create enduring solutions. Recognized by clients as a collaborative and engaging leader, Rob will be continuing to advance and expand the firm's higher education practice.