Occupancy Models for Dynamic Discovery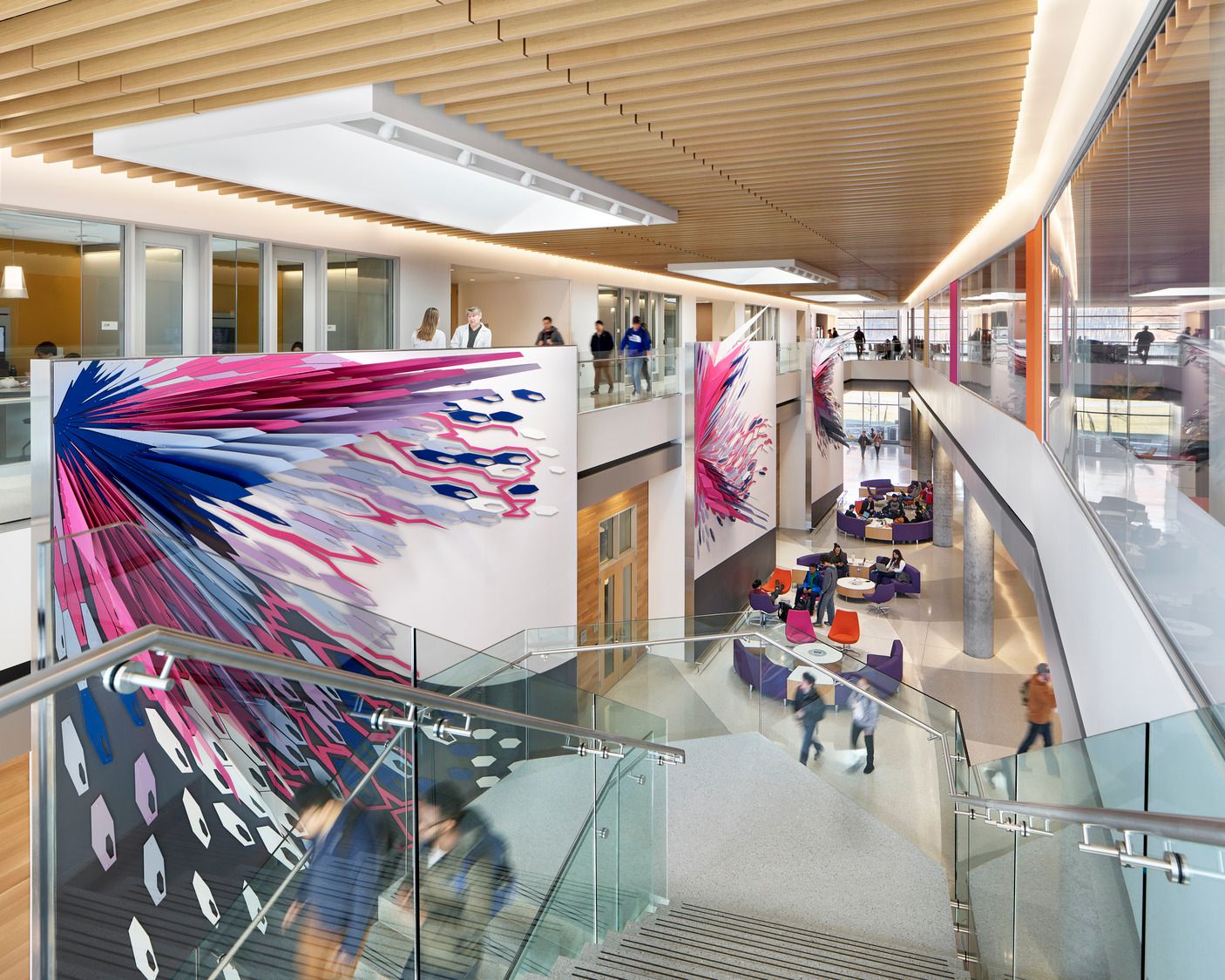 Ballinger senior principal Jonathan Friedan, PE, LEED AP and studio leader Alexa Hansford, AIA, alongside University of Maryland, Baltimore County's (UBMC) Dennis Cuddy, presented at Tradeline's University Facilities for the Sciences and Advanced Technologies 2021 Conference in Scottsdale, Arizona. Their talk, "Institute and entrepreneurial space occupancy models for dynamic research and technology programs," examined four common facility models — departmental, multi-departmental, institutes, and innovation — and described how features from each were applied to UMBC's Interdisciplinary Life Sciences Building (ILSB).
A center for research, active learning, innovation, and inspiration, the 131,000 SF ILSB supports UMBC's mission of student success and research discoveries. The ILSB was an investment in consolidated research infrastructure, an alternative to building department-specific projects throughout the campus. A competitive application process attracts cohorts from multiple specialties to come together for research under one roof. The building is designed to reinforce a collaborative, convergent environment that welcomes students and faculty, regardless of their study focus, to spark new approaches to discovery.
The ILSB features teaching, research, and collaborative spaces, all for collective use by building occupants. The building organization balances the safety and security priorities of research environments with the desire for teaching spaces that are vibrant, accessible, and transparent. Research and teaching are connected by a double-height central commons enlivened by artwork.
The engineering systems within the building apply best practices from buildings with diverse occupancy models. Energy efficient features include chilled beams and an innovative "air share" system. These strategies reduced energy use by 44% compared to similar buildings.
The building opened in 2019 and brought to life UMBC's vision of "a community of scholars." The collaborative research currently underway includes topics such as age-related disease and disparities, and 3D printing of integrated human tissue models.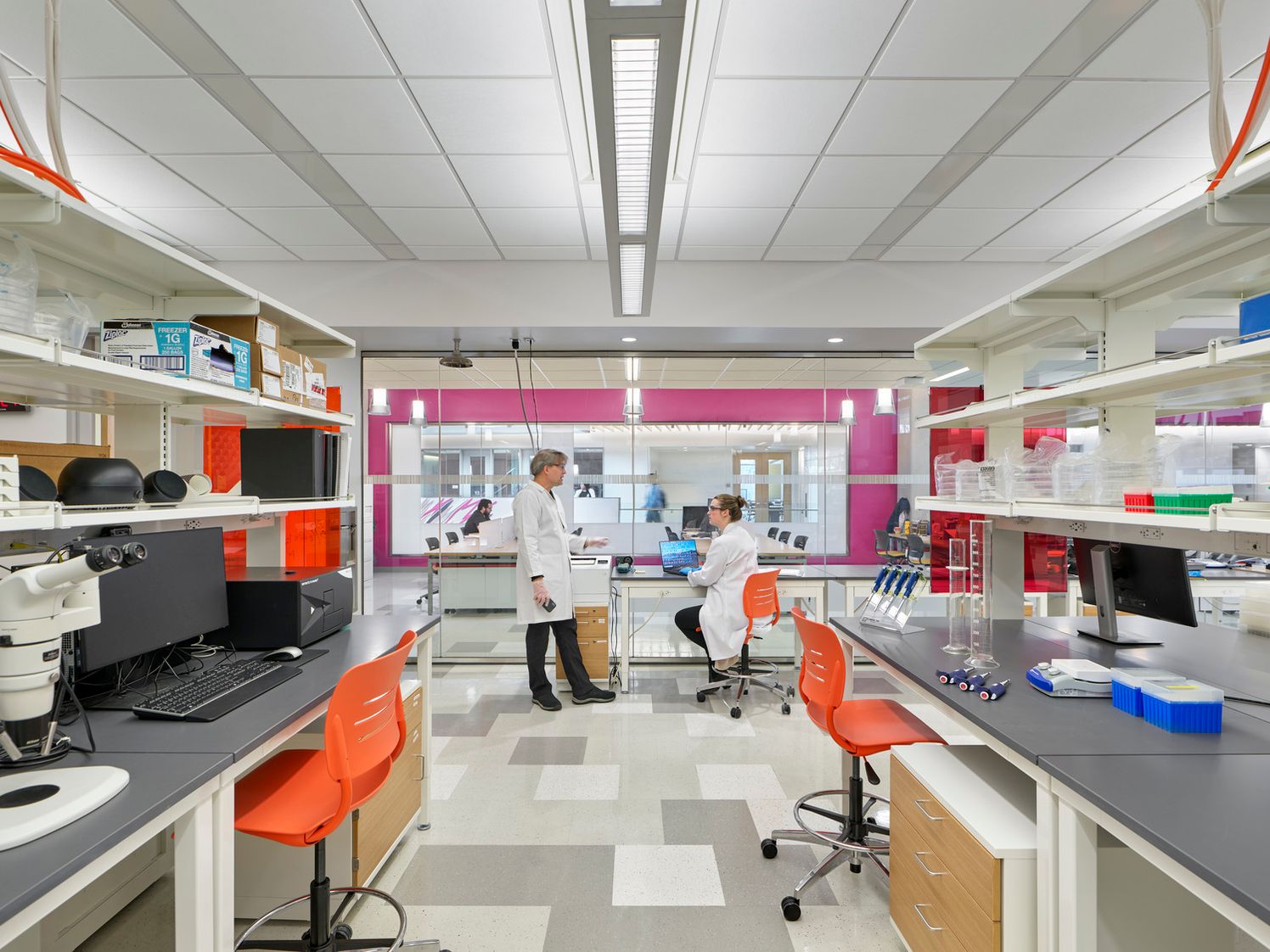 Learn more about occupancy models through these examples:
Departmental buildings are dedicated to a single specialty. University of Wisconsin's Chemistry Instructional Building was designed to accommodate the ever-increasing demand for foundational STEM courses, address the university's desire to upgrade the existing infrastructure of their chemistry complex, and enable excellence in the field. The building is highly specialized and cannot be translated to suit the needs of another department.
Multi-departmental buildings balance the needs of multiple specialties within a single space. The design of George Washington University's Science and Engineering Hall arranges laboratories and teaching spaces for different departments into "research neighborhoods" to encourage interdisciplinary partnerships. Leveraging the similarities between specialties and the building's collaboration space allows students and faculty to collaborate in new ways and break down departmental silos.
Institutes are highly specialized buildings designed to push the boundaries of scientific discovery and engage the public. The Wisconsin Institutes for Discovery was one of the most unique interdisciplinary research institutes of its time. The building accommodates a public institute, federally-funded team-based research, and on the private side, industry partnerships, commercialization and outreach to the community.
Innovation buildings prioritize start-up and entrepreneurial culture. Pennovation Center is a groundbreaking incubator space developed by the University of Pennsylvania that offers highly-flexible and accessible leased spaces to accommodate a variety of research. The co-location of multiple incubators leverages shared business resources.