Design that Inspires a "Wow"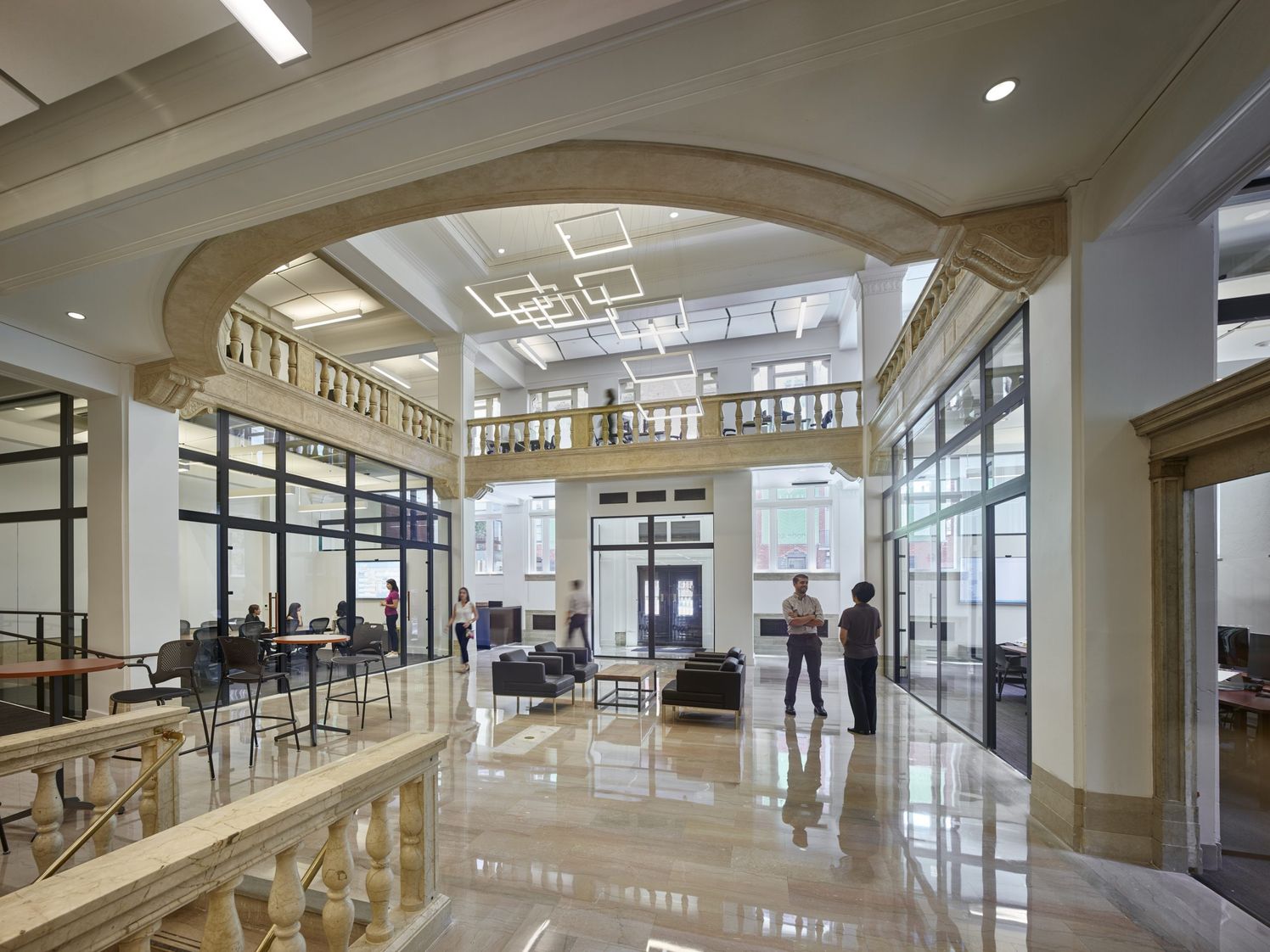 Technical.ly Philly writer Nicole Forrester profiled Linode's headquarters, located in Old City Philadelphia. Ballinger completed the award-winning adaptive reuse project in 2018.
Excerpted from Technical.ly Philly:
In the heart of Old City, walking into Linode's headquarters inspires a "Wow." With soaring ceilings, marble floors, and a modern LED chandelier to pull it all together, it's clear the cloud hosting company aimed to make a statement.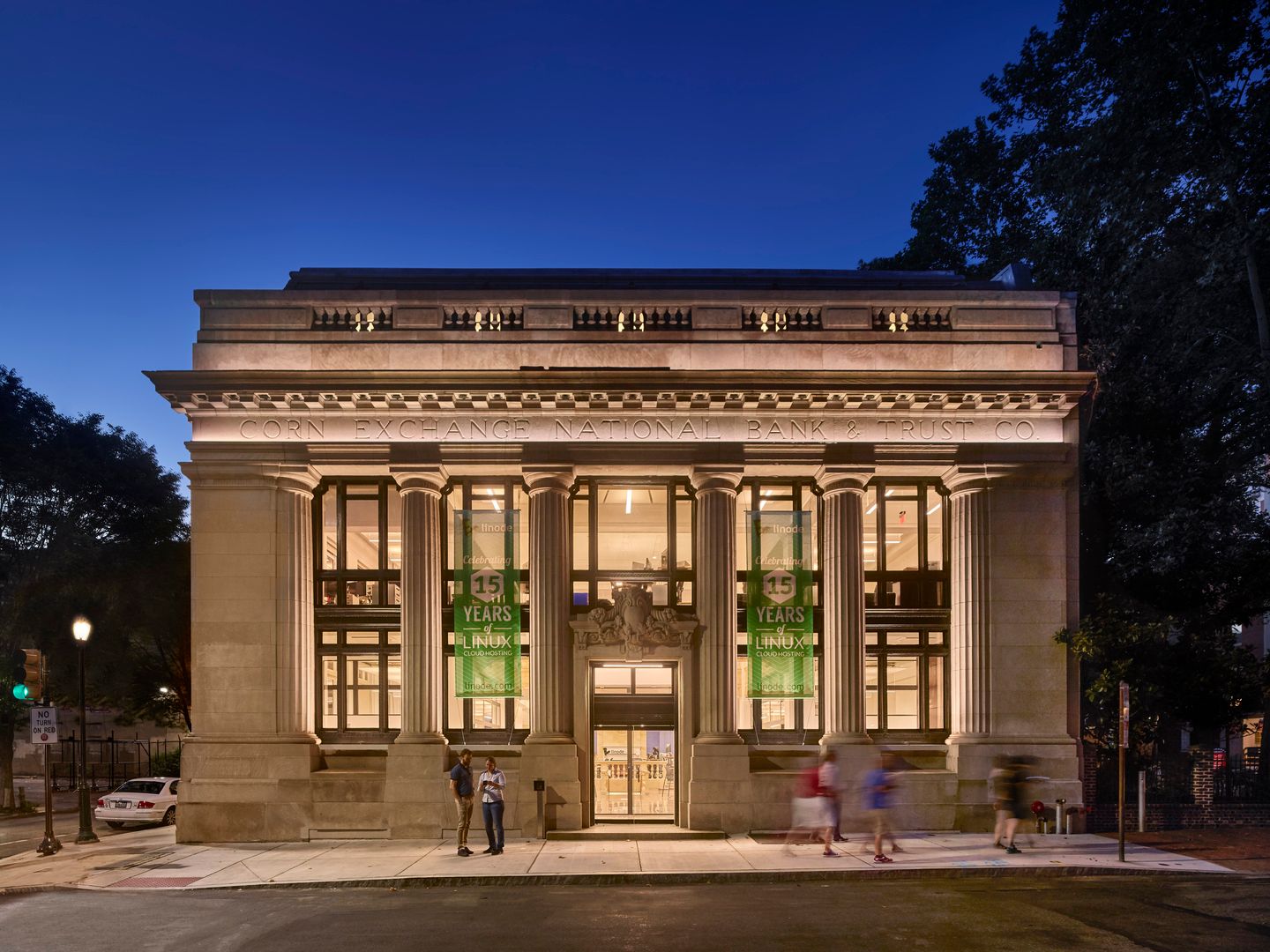 Linode is a unique player in the tech scene. The cloud hosting company has emerged as a popular alternative to AWS, competing not from Silicon Valley, but right here in Philly. Its key differentiator: a highly trained in-house support team, where customers can talk to a real person 24/7. It's one of the few companies in the world that invests in support in this manner, and customers love it for it — to the tune of over $100 million in yearly revenue.
Such an impressive stat might inspire a design aesthetic of mahogany and leather, but for Linode, the aim was to create a space that reflected the ethos of the open source technology it's built from. Restoring the old Corn Exchange Building was a costly and time consuming undertaking, but CEO Chris Aker felt like it was the right way to move into Philly, as he told Technical.ly in 2018.
"So much of what we do as a company is intangible," he said. "It's bits flying through wires. It's electrons. It's magnetic fields on spinning rust, or in our case, on SSDs. This is something tangible."
Open floor plans allow employees to rotate their desks easily as project teams shift. Glass walls and doors promote transparency and let the light fill up the whole space. On the flip side, there's a functioning library with a real sliding ladder on the third floor, and the bank vault in the basement is now a meeting room. This blend of old and new is the core of Linode's style.
The building has and is surrounded by a rich history. For Linode's employees, that means eating lunch next door in the Betsy Ross House courtyard, or walking past where Ben Franklin is buried on the way to work.
"The American Revolution and the [advancement] of democracy has connection to the mission Chris built this company on," said Michelle Berg, people operations generalist, referring to the democratization of the internet and cloud services' contribution to that. "That is a really inspiring part of the environment here."
There's also more recent history. Formerly Linode HQ was the "Real World MTV" house, and just this past summer while filming for "Queer Eye," Karamo Brown visited the office.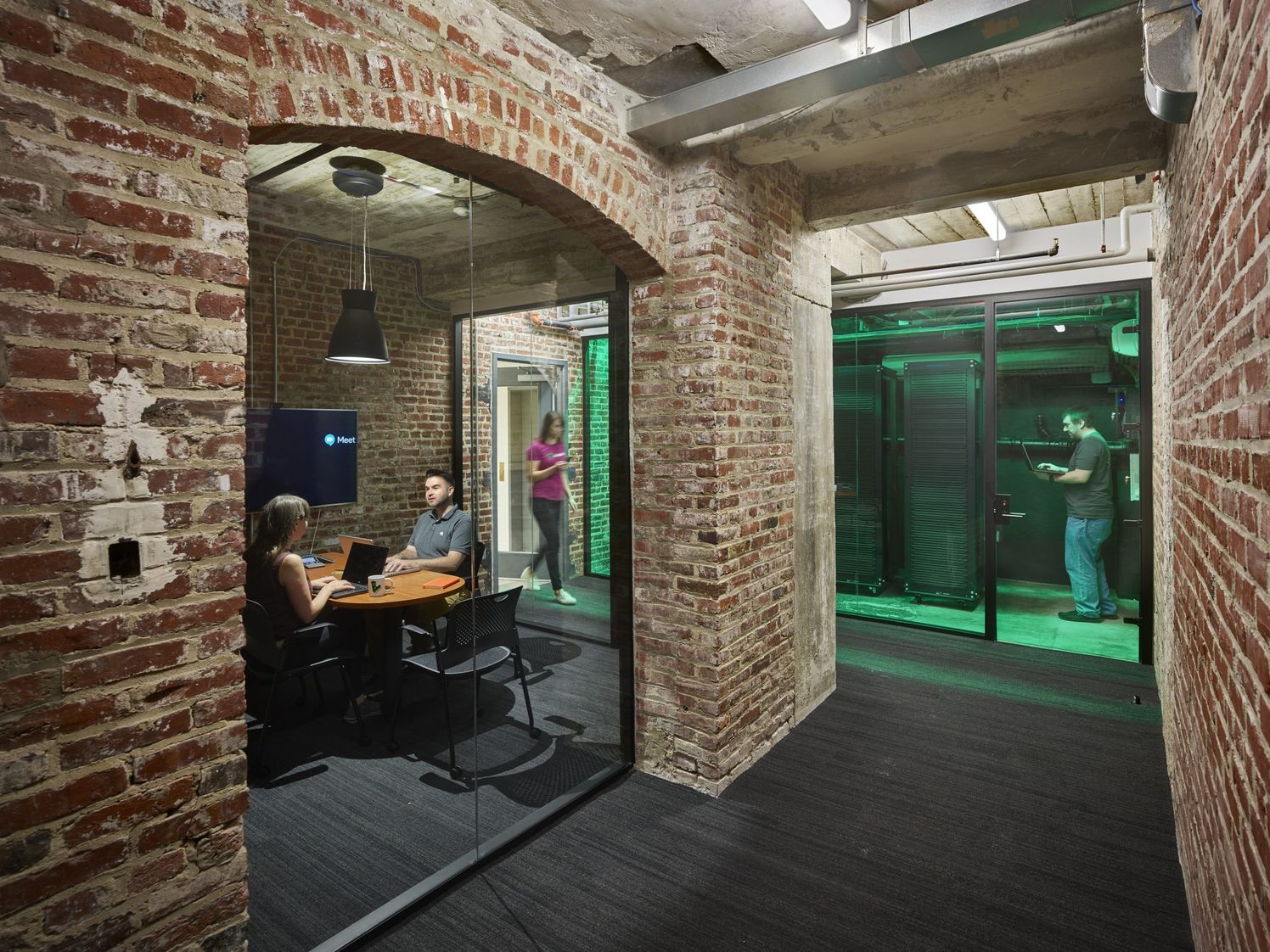 Linode's previous office couldn't have been more different. Located in Haddonfield, New Jersey, the space had previously been residential houses, so the offices were made of many small rooms.
Berg's first week at the company was during the move to the new HQ. She said employees were so excited about the new building, many showed up before it was ready, bringing their own chairs or perching wherever they felt comfortable. The new office wasn't just an upgrade in space, but a shift to being a Philly company. Located right on N3rd Street, rebranded by the city in 2014, it's the most evident symbol of the growing tech community.
As such, Linode HQ hosts numerous community events throughout the year. From meetups to weekend workshops to beer gardens in the parking lot, there's a tremendous amount of energy within the Philly tech community that flows through events sponsored by Linode.
After about a year and half, Linode has already begun work on an expansion. It's still largely under wraps, but what Berg can share is that "it's indicative of the amazing growth that we've had over the last two years."