Trauma Informed Design Solutions for Philadelphia's Office of Homeless Services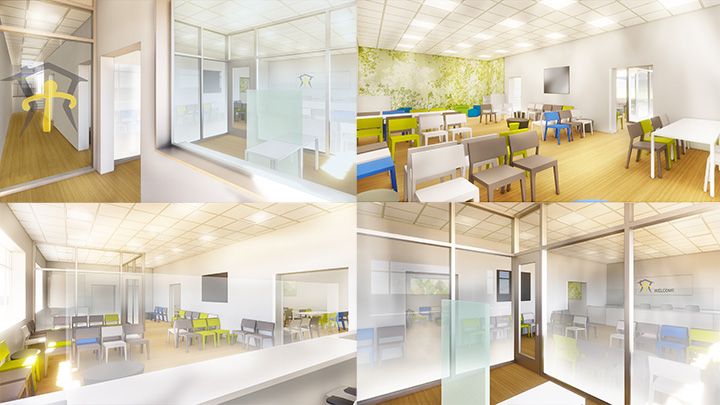 Serving over twenty thousand Philadelphia residents each year, Philadelphia's Office of Homeless Services (OHS) is a robust resource to the community. Ballinger was selected to develop conceptual design guidelines to create a more empathetic, trauma-informed OHS intake experience. Intake centers are the first point of contact for families and individuals seeking assistance. From there they can access a variety of  homelessness prevention, diversion, and intake services based on their immediate needs.
The primary goals of the project are to foster a trauma-informed service experience and to promote consistency and efficiency in future renovations of OHS facilities.  Ballinger's design process included participating in user-group meetings and analyzing data from the Philadelphia Office of Open Data and Digital Transformation (ODDT), activities that align with the City's "person-centered service framework."
In collaboration with OHS, the Ballinger team developed guidelines for creating a cohesive environment for the City's homeless prevention, diversion, and intake services, designed to improve visitor wellbeing, encourage engagement with the OHS system, and prevent re-traumatization. The design effort focused on the Appletree Family Center in downtown Philadelphia, which will serve as a prototype for future intake center renovations.
Built on the tenets of transparency, collaboration and empowerment, the conceptual design guidelines promote a safe and calming environment that also addresses wellness and respite for staff. A palette inspired by the hospitality industry features durable materials, natural textures and muted colors. Ballinger Principal Sara Ridenour, AIA, LEED AP emphasized the impact of the physical environment on our behaviors, "As architects and designers, we recognize that the spaces we occupy influence our attitude and mood. By prioritizing openness, clear wayfinding, and transparency, the design reduces stress and helps participants prepare for each step of the intake process."
The project was initiated by the PHL Participatory Design Lab, a multidisciplinary and cross-agency team of service designers, policy-makers, and a social scientist. The Lab uses participatory design and evidence-based methods, like service design and social science, to improve City service delivery for and with residents, service partners, City staff, and leadership. The Lab was funded by a Knight Cities Challenge (KCC) award from the John S. and James L. Knight Foundation, and is administered by The Mayor's Fund for Philadelphia.
Read more about how Philadelphia is creating trauma-informed service experiences