Reviving a Historic Landmark for Linode's Philadelphia Offices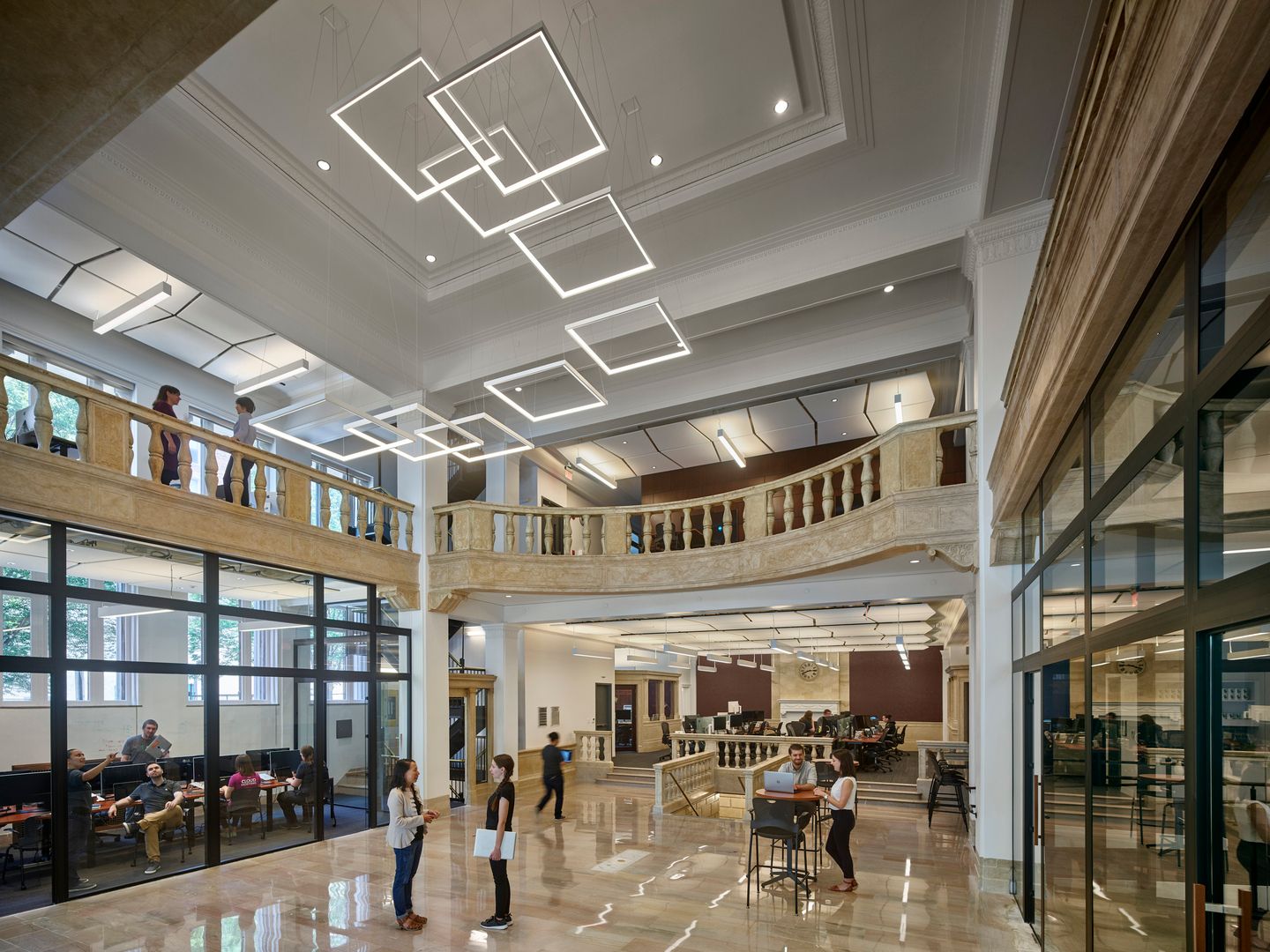 Ballinger recently completed the renovation of the Corn Exchange National Bank building for the growing cloud-hosting company Linode. The new headquarters is a mashup of Silicon Valley technology and historic Philadelphia architecture. Sited next to the Betsy Ross House and along N3rd Street, the city's official tech corridor, the building offers the kind of workspace that appeals to tech workers: it's open, authentic, transparent, and home to state-of-the-art computing.
The Old City landmark, known for its neoclassical style and history as a former MTV Real World house, was built for the Union Bank of Philadelphia in 1902. It is listed in Philadelphia's register of historic places and considered significant within the National Old City Historic District, with a facade featuring colossal limestone columns and a granite stoop with wood, bronze, and glass sliding-pocket doors. Its urban location promises to jumpstart Linode's ability to recruit and retain highly-qualified employees.
Ballinger Senior Principal, Keith C.H. Mock, AIA, and Director of Historic Preservation and Adaptive Reuse, Fon Wang, AIA, LEED AP, were tasked with rehabilitating the structure's many striking original features while creating modern and functional offices for engineers, product development, sales, marketing, and customer support. Philadelphia specialists Materials Conservation Co. refurbished original wood lacquer, handmade plaster tiles and balustrade, hand-painting them to blend with the original. Masons uncovered brick walls and removed builder-grade floor tiles to showcase the original marble flooring. The team also rescued and rehabilitated the building's 100-year-old wooden windows. Wang was energized by Linode's commitment to restoring the building: "It was an honor working with an owner who fosters a true love for the building and its history. A lot of details that could have fallen to the wayside were saved and reinvigorated."
The main bank room was designed to become a tech hub for social engagement. The underground bank vault, at one point the infamous Real World "confessional," is now a break-out room, accessed through the original, restored metal vault door. Ballinger worked with state and city officials throughout the project to ensure that all work followed building regulations, and preservation and accessibility guidelines— a task that was challenged by the building's age and landmark status. The result is a sophisticated design that highlights historic features and renders the building systems practically invisible.
Ballinger successfully assisted Linode in the approval of Federal Historic Preservation Tax credits, completing Parts I through III of the application and working with the Pennsylvania Historical and Museum Commission (PMHC) and the Philadelphia Historical Commission. The tax credit allows Linode to apply 20% of the renovation cost, including construction and soft costs, to their tax liability.
The building officially opened in June 2018 and has been well received by "Linodians." Summarizing her passion for the project, Wang said, "One of the principles of historic preservation is continued use. My hope is that this adaptive reuse serves as a precedent to other buildings in need of a new life."