A Workplace Rooted in Nature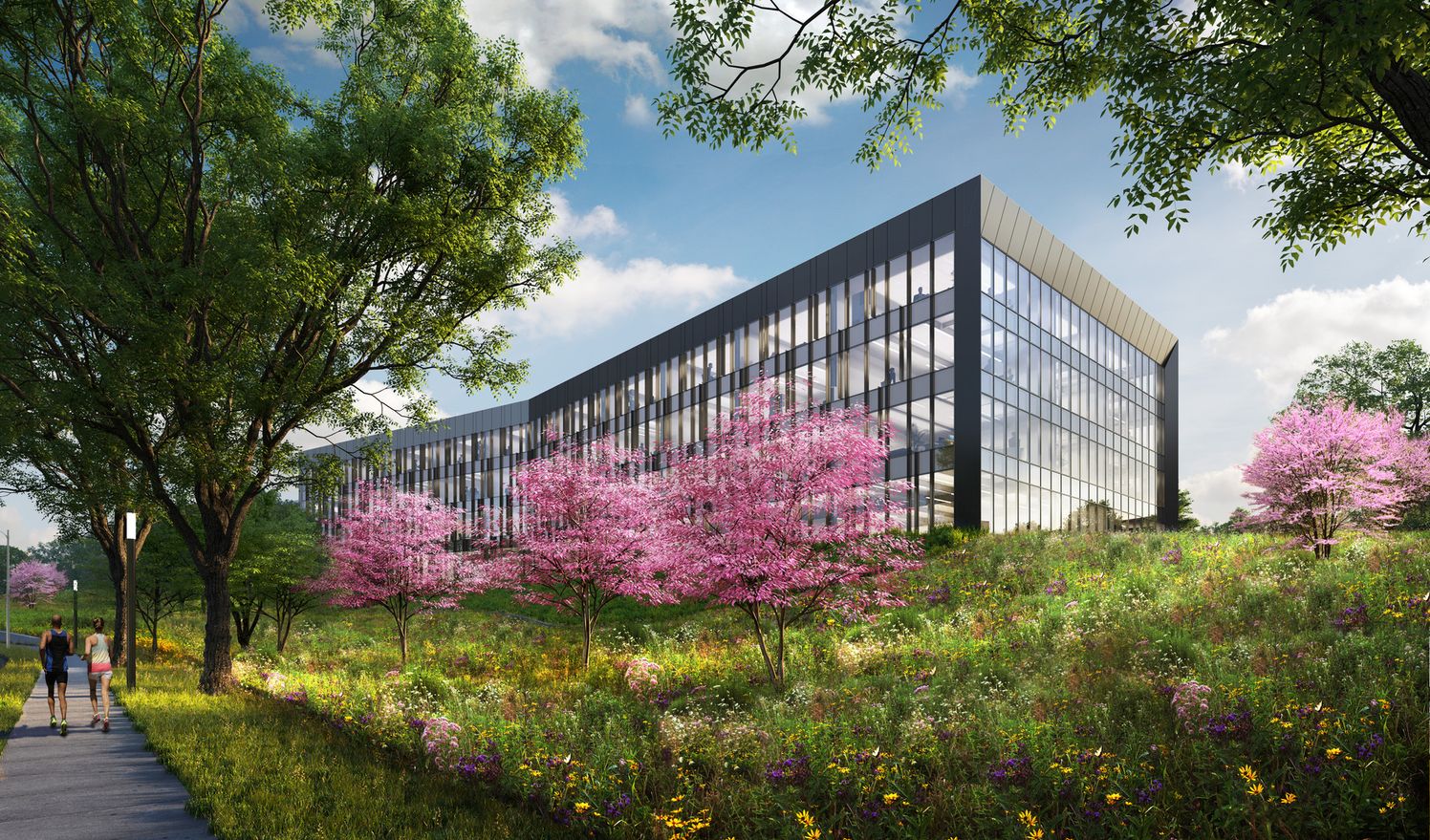 Brandwine Realty Trust announced that it is currently leasing space in 155 Radnor, the townships's first new workspace development in 30 years. The architecture of 155 Radnor is intrinsically linked to the natural environment, designed with human health and environmental sustainability in mind. The design sets a new standard for workplace wellness, embodied by unique amenities, a refined material palette, and connections to nature.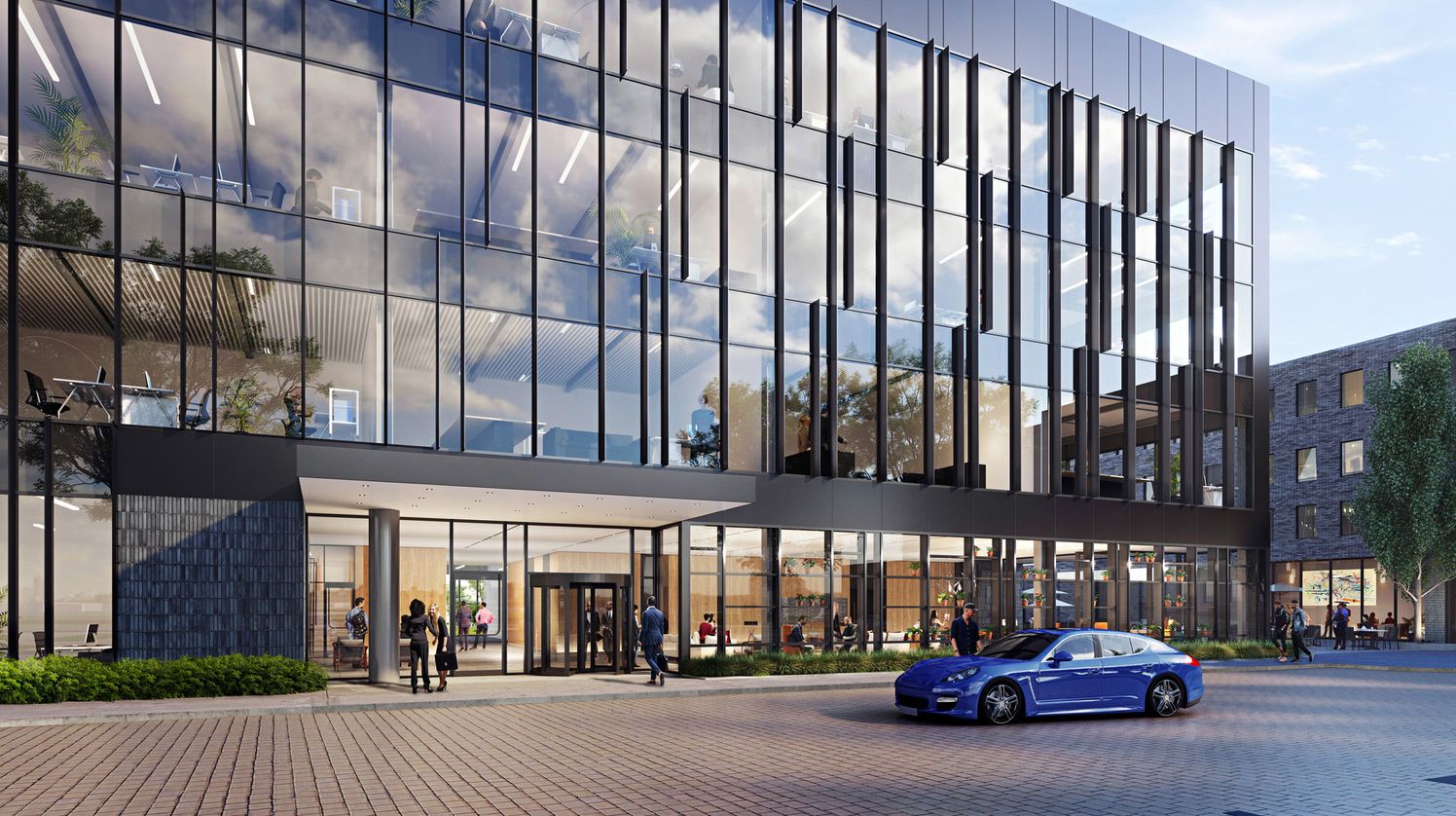 Rooted in Nature
Ballinger approached the building and site design by first asking: How can we be more sensitive to the needs of occupants, the community and environment? Our design philosophy is influenced by biophilia, the theory that people possess an evolutionary affinity for nature that continues to be a vital component to human health and well-being. The team's design integrates the 150,000 SF building into its surrounding landscape, blurring the distinction between inside and outside. Floor-to-ceiling glass brings light and views inside, while landscaped gardens, walking paths and seating areas invite occupants outdoors. The lobby opens to a courtyard with outdoor seating and activities, and a 100-person conference center features glass walls with views out to the landscape.
Wellness by Design
The design team took inspiration from the hospitality industry to create a holistic environment that prioritizes wellness. A central staircase designed to encourage healthy choices is prominently positioned adjacent to the elevator core. In addition to the conference center and co-working space, the first floor is home to a fitness center.
The material palette is inspired by nature, with warm tones and natural textures. Materials by local artisans further embed the design into the community.
A folding glass wall and lush plantings in the lobby welcome the outdoors in. An outdoor living room, bocce court and café seating expand the amenities beyond the building footprint, connecting occupants to an activated natural landscape.
A Vision for Today's Workforce
Above the lobby level, three stories of office space feature floor-to-ceiling glass, 10-foot ceilings, and a mechanical design that allows for a clutter-free exposed ceiling. The design intent is to expose the building's structure to its occupants, furthering the architectural vision of transparency. Floorplates feature wide column spacing and are served by four high-speed elevators.
Recent research shows that American workers spend about 90% of their time indoors. Natural light, sweeping views, and access to nature can positively influence occupants' feelings of well-being, increase productivity, and reduce absenteeism. By designing a workspace that links to the natural environment, 155 Radnor promotes wellness, efficiency and sustainability.
A Better Approach to Development
Unlike many office buildings, 155 Radnor will be one component of a mixed-use development, allowing for shared outdoor amenities and complementary uses. The development includes a hotel and healthcare center, linked to 155 Radnor by landscaped paths. Slopes throughout the grounds create a variety of terrain, punctuated by trails, a central green and a courtyard pavilion.
The building's central location exemplifies best practices in site planning for sustainability. It can be easily accessed by two rail stations (one on the site itself), bus, car, biking and walking trail. A generously-sized parking garage ensures spots for tenants and visitors, while minimizing surface parking area.
The site of the mixed-use development was formerly a 1960's office park.  Like most suburban site planning of that era, the original buildings were placed at the center of the parcel and surrounded by surface parking, maximizing lot coverage and leaving little usable outdoor area. The new development flips that model; the buildings are now placed at the periphery of the site and the center is left as a lush green space. By housing parking in garages rather than surface lots, the design of the development reduced lot coverage from 65% to 45%.  The development's one small surface parking area is designed to double as a location for weekend farmers markets and other community functions.
Advancing Sustainability
Two hundred and fifty trees and a "micro-farm" will be planted within the develpoment. The quarter-acre plot will be cultivated by the University of Pennsylvania and will yield seasonal vegetables and herbs. Storm water management elements are woven naturally throughout the grounds, where they reduce the environmental impact of run off and create a welcoming environment for visitors and the larger community, as well as for birds, butterflies and other pollinators. A wet meadow, wet woodland and central green surround the building, with native plants designed for all four seasons. Three underground cisterns eliminate the need for sprinklers. A network of walking trails connects the office building to the neighboring hotel, healthcare center, and community.