Adelphi University

an inclusive campus hub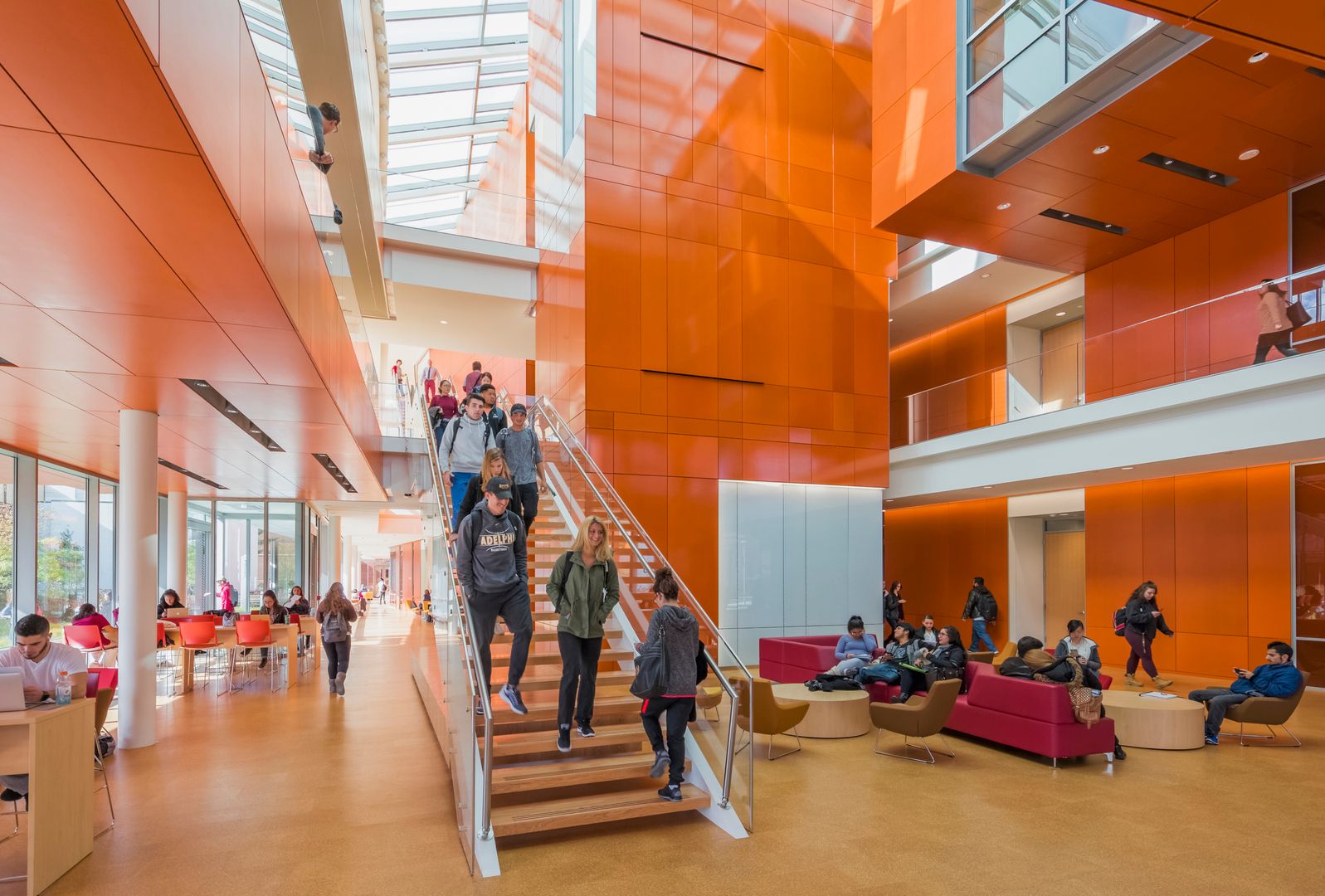 Adelphi University
Nexus Building
In 1944, Eleanor Roosevelt dedicated Adelphi's first buildings for nursing students. With the Nexus Building, Adelphi continues to be a pacesetter in nursing education and creates a unique link between this crucial field of study and the campus community. The Nexus Building combines training and teaching space for the School of Nursing with innovative learning environments and resources for the University.
Prominently located at the entrance to campus, the building's exterior responds sympathetically to nearby historic McKim, Mead & White-designed buildings, while the glass curtainwall secures its position as a contemporary landmark. It serves as a visual representation of Adelphi's commitment to community, collaboration and academic excellence.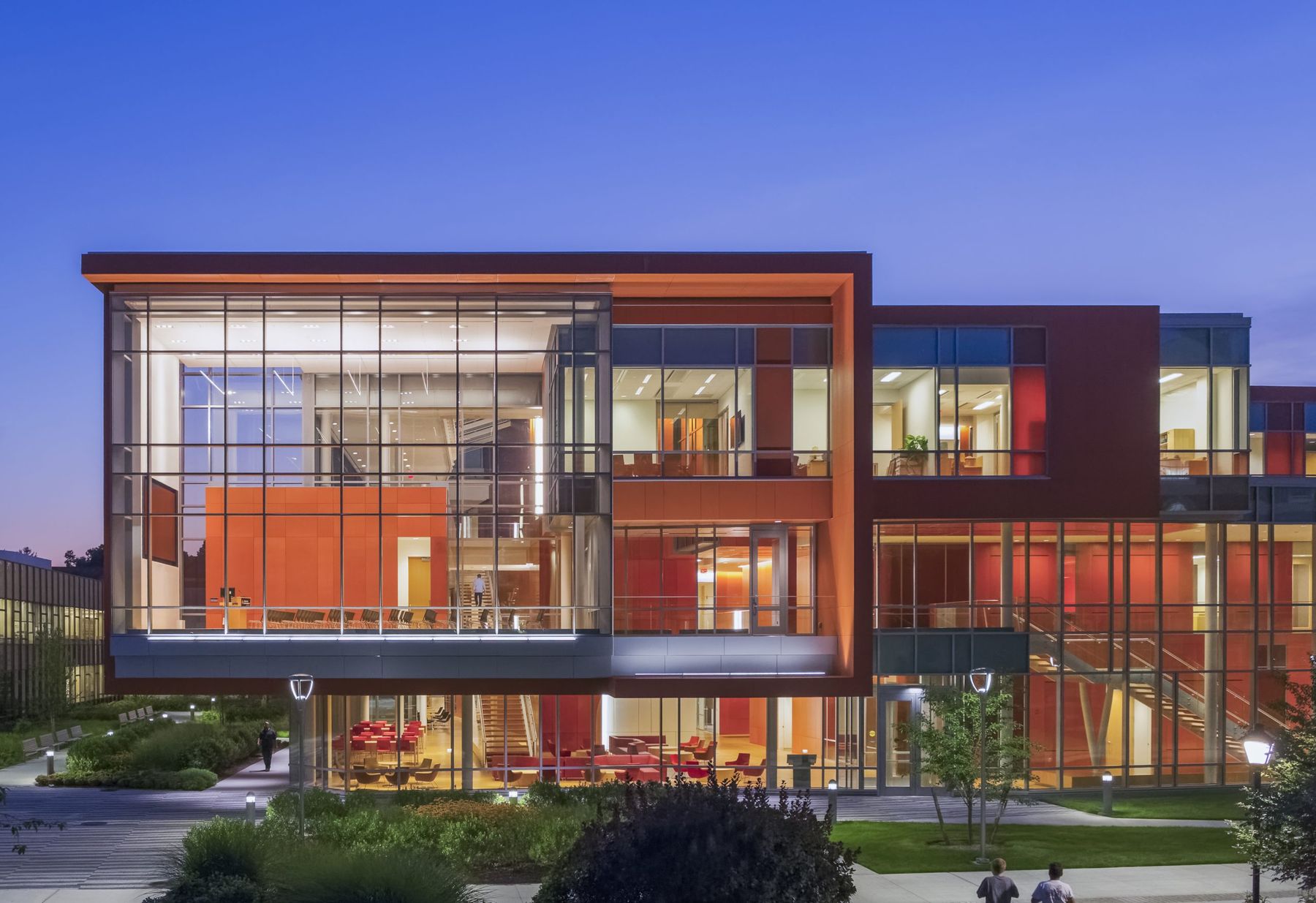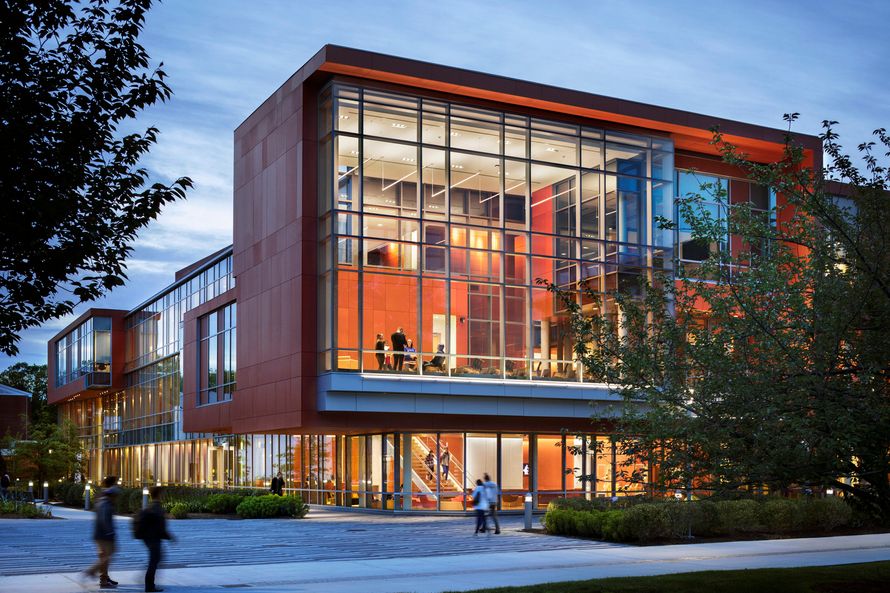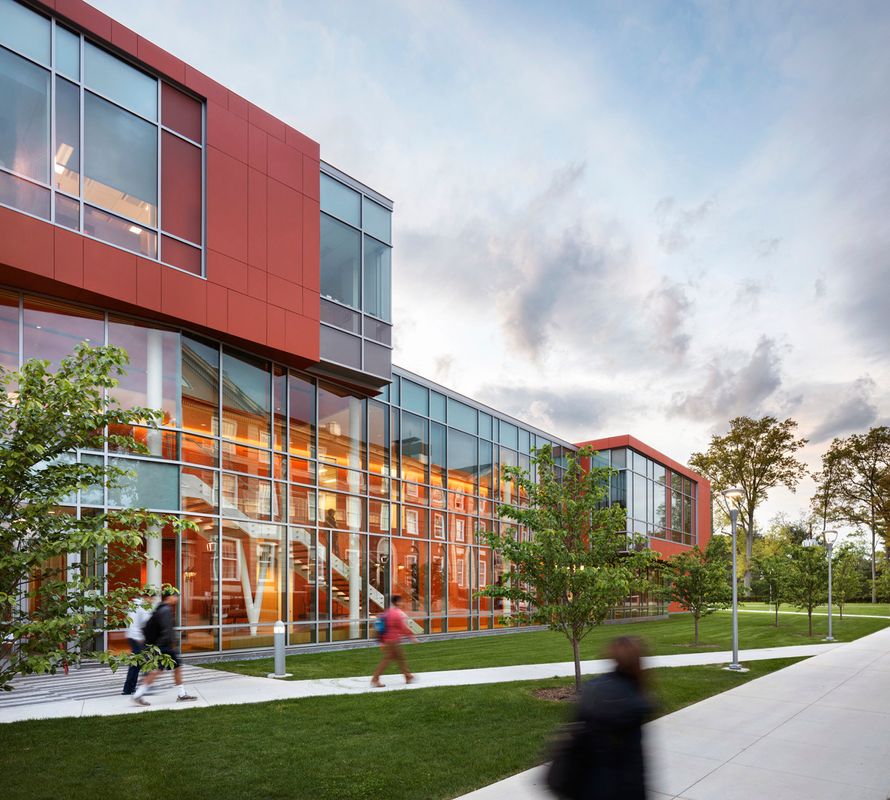 "The building truly is a campus nexus. It draws together a diverse set of influences while also being of its time. Its design embodies the interactive character of a 21st century university."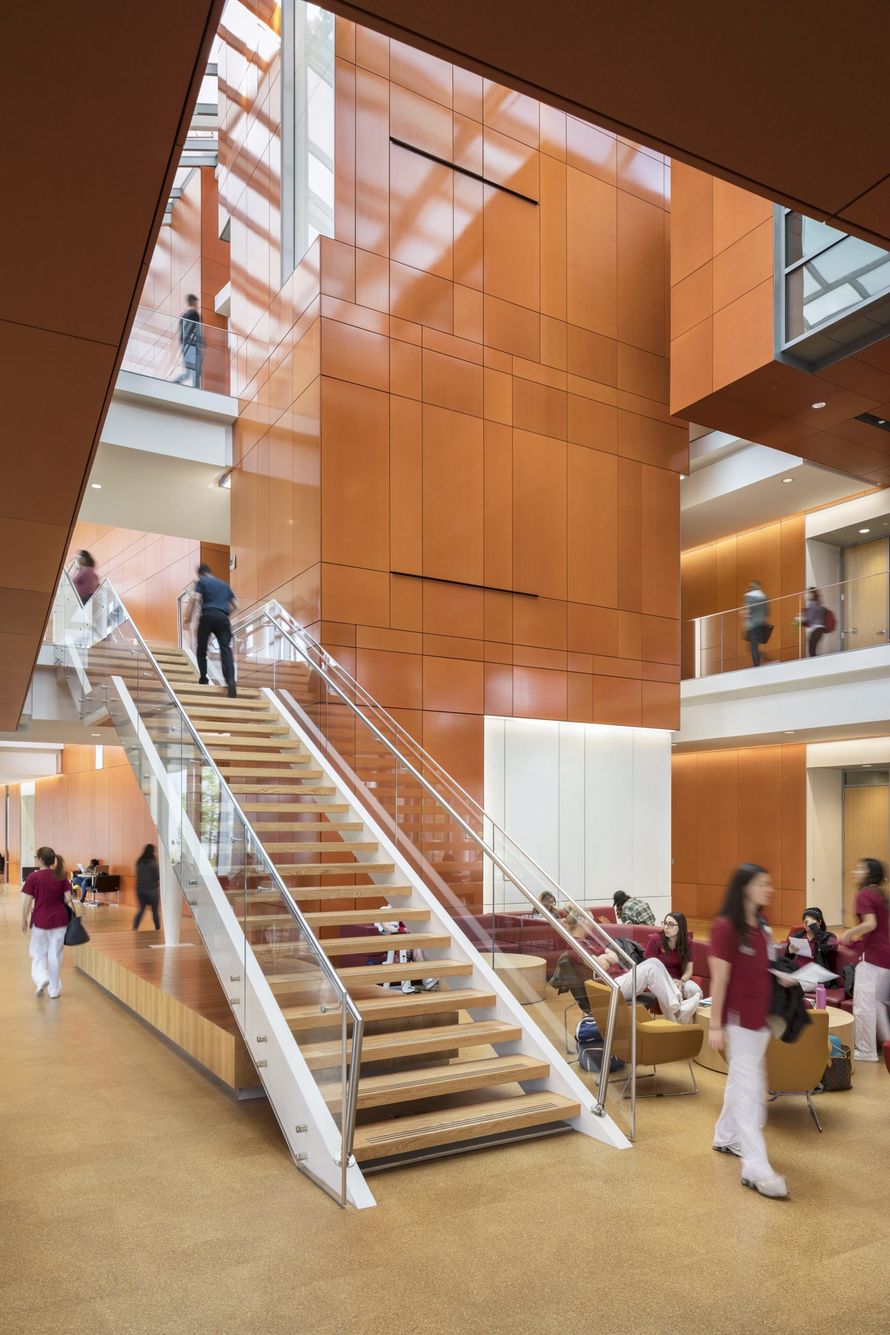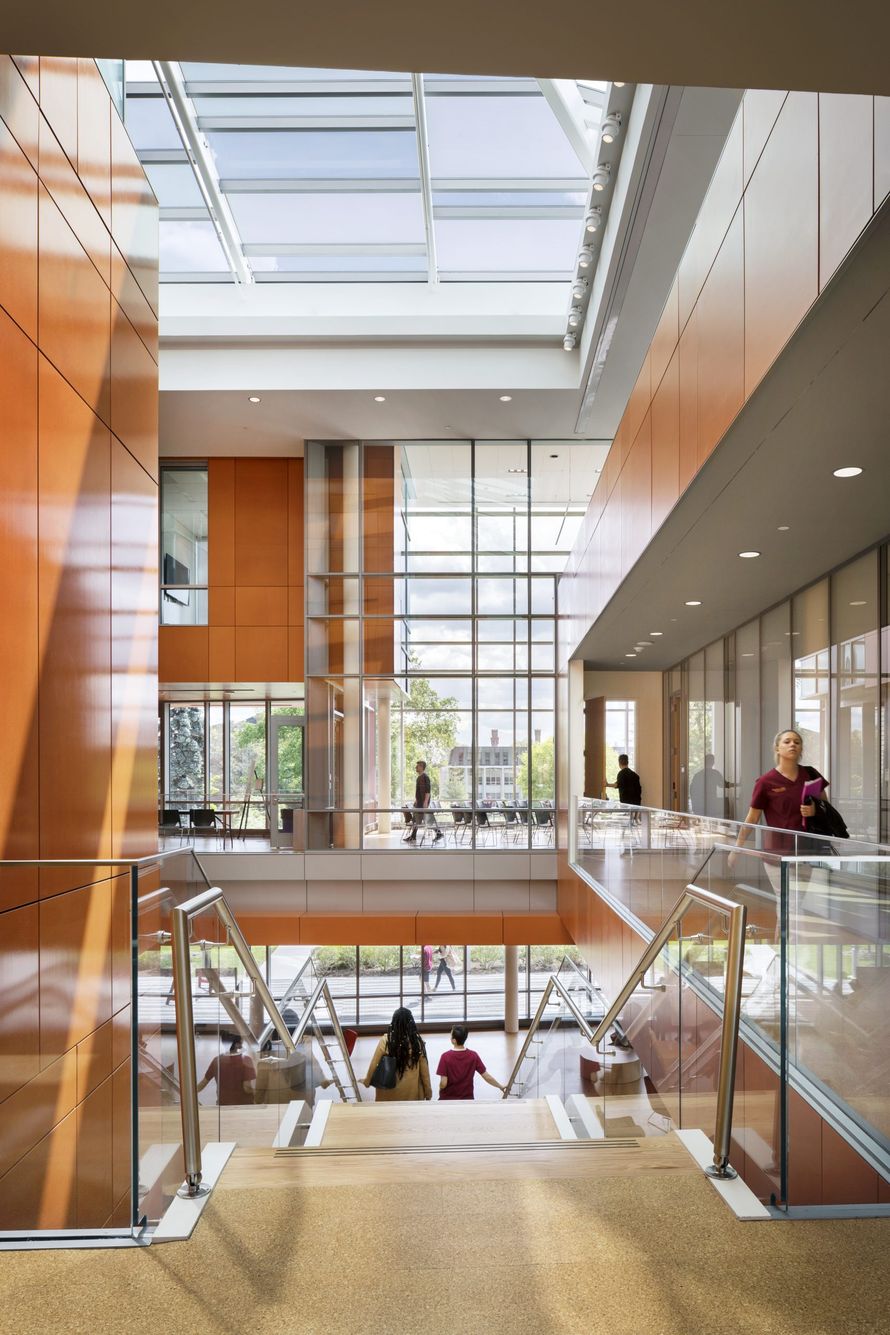 The state-of-the-art facility is L-shaped, integrating with existing campus buildings and a below-grade parking structure. The east wing includes a public Welcome Center while the larger south wing houses the primary learning spaces. A three-story glazed commons serves as the central connector for the varied programmatic elements. Flooded with natural light, the space extends the existing campus pedestrian passageways through and alongside the building, weaving it into the campus fabric and celebrating its prominence as a campus destination.
The building welcomes prospective students, fosters community among existing students, and is the home to which alumni return. It houses the offices of admissions, alumni relations, and advancement as well as student support services such as mentoring, counseling, and the office of diversity, equity and inclusion.
The Adelphi campus is an arboretum, so the surrounding landscape and environmental sensitivity were design drivers. A green roof and terrace, along with other sustainable features, contribute to the LEED Silver design.
American Institute of Architects Pennsylvania
Honor Award
American Institute of Architects Pennsylvania
Merit Award, Unbuilt
American Institute of Architects Pennsylvania
Silver Award, Unbuilt