Well Planned Design for Positive Impact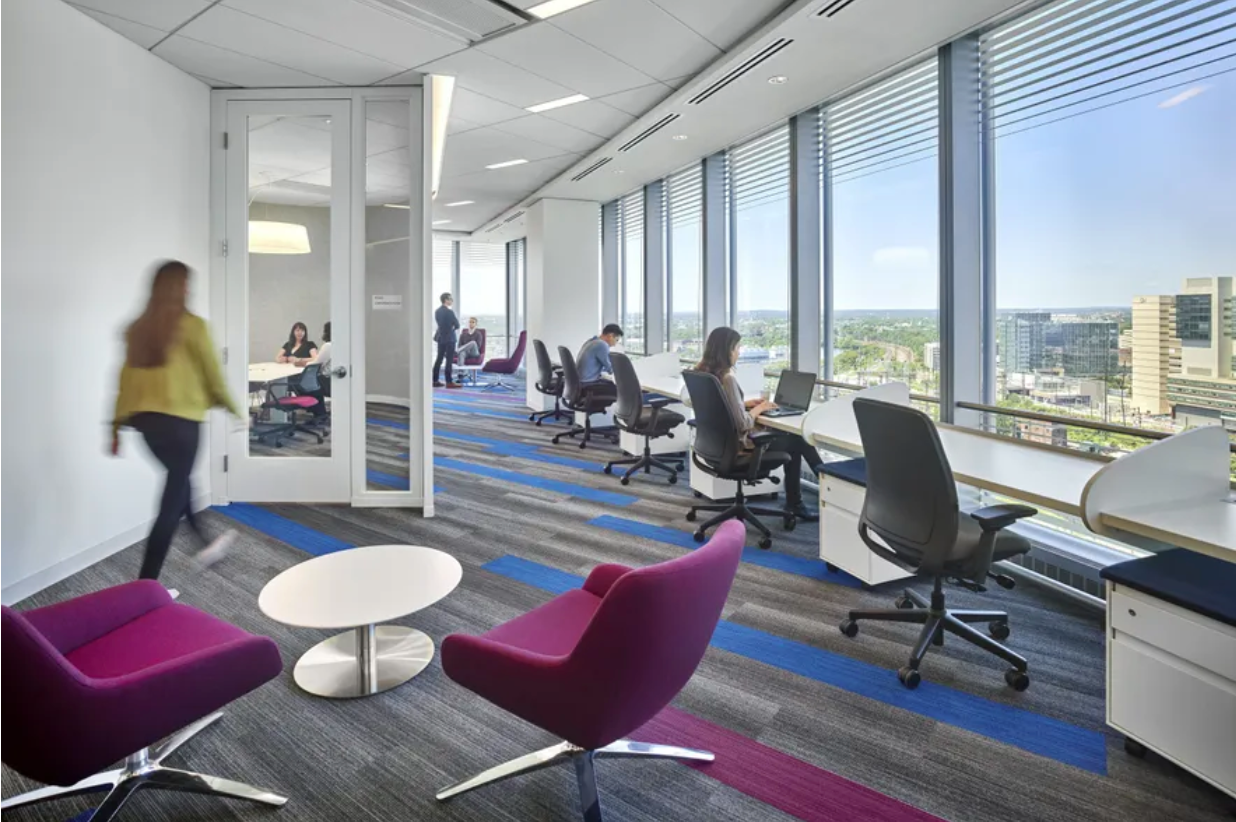 With hybrid work now the norm, many employers are considering how to best inspire employees to work in-person and how wellness initiatives and standards fit into that picture. At Ballinger, we synthesize architecture and engineering in ways that center on human experience. This requires a specific and acute focus on occupant well-being and community building, criteria that is integral to the WELL Building Standard. Administered by the International Well Building Institute (IWBI), WELL is an evidence-based scorecard that serves as a roadmap for designers to prioritize human health and wellness. Ballinger's understanding of WELL principles has informed our approach to client solutions as well as our own office environment.
From quality of air, water and lighting to materials, acoustics, and nourishment for the mind and body, the requirements of WELL push our teams in both familiar and unexpected directions. WELL AP signifies advanced knowledge in human health and wellness in the built environment. Specialization in the WELL Building Standard guides designers with implementable strategies to enhance wellness, optimize productivity, and potentially, maximize real estate value. Project Manager Modesto Bigas-Valedon, AIA, LEED AP is also a WELL Accredited Professional and takes pride in the fact that he can focus on the positive impact our spaces have on the people who occupy them. "The more time Ballinger has devoted to thinking about wellness in the projects we are designing, the more I see it embedded in the DNA of what we do as a firm."
Ballinger is currently working on WELL certified projects for a major pharmaceutical company and the University of Nebraska's College of Engineering. "Engineering is a major that puts an immense amount of pressure on the student. It was rewarding to design a space that can assist with relieving some of that stress," said Ballinger Associate Principal Rich Dengler.
Interior designer Jennifer Cappella, IIDA, LEED AP ID+C is a member of the design team reimagining the workplace of a pharmaceutical giant. She quickly saw parallels in the WELL framework to what she seeks in a workplace. "I realized how much I respond to things like acoustic performance and biophilia—daylight makes a huge difference for me," she said.
At Ballinger, we take the comfort and well-being of our employees seriously. From standing desks to touchless sinks, quiet rooms and healthy snack offerings, we use our intimate understanding of workplace design to provide features and spaces that allow team members to thrive. As we advance into 2023, we are reinvigorating our commitment and approaches to workplace both inside our studio and our projects.