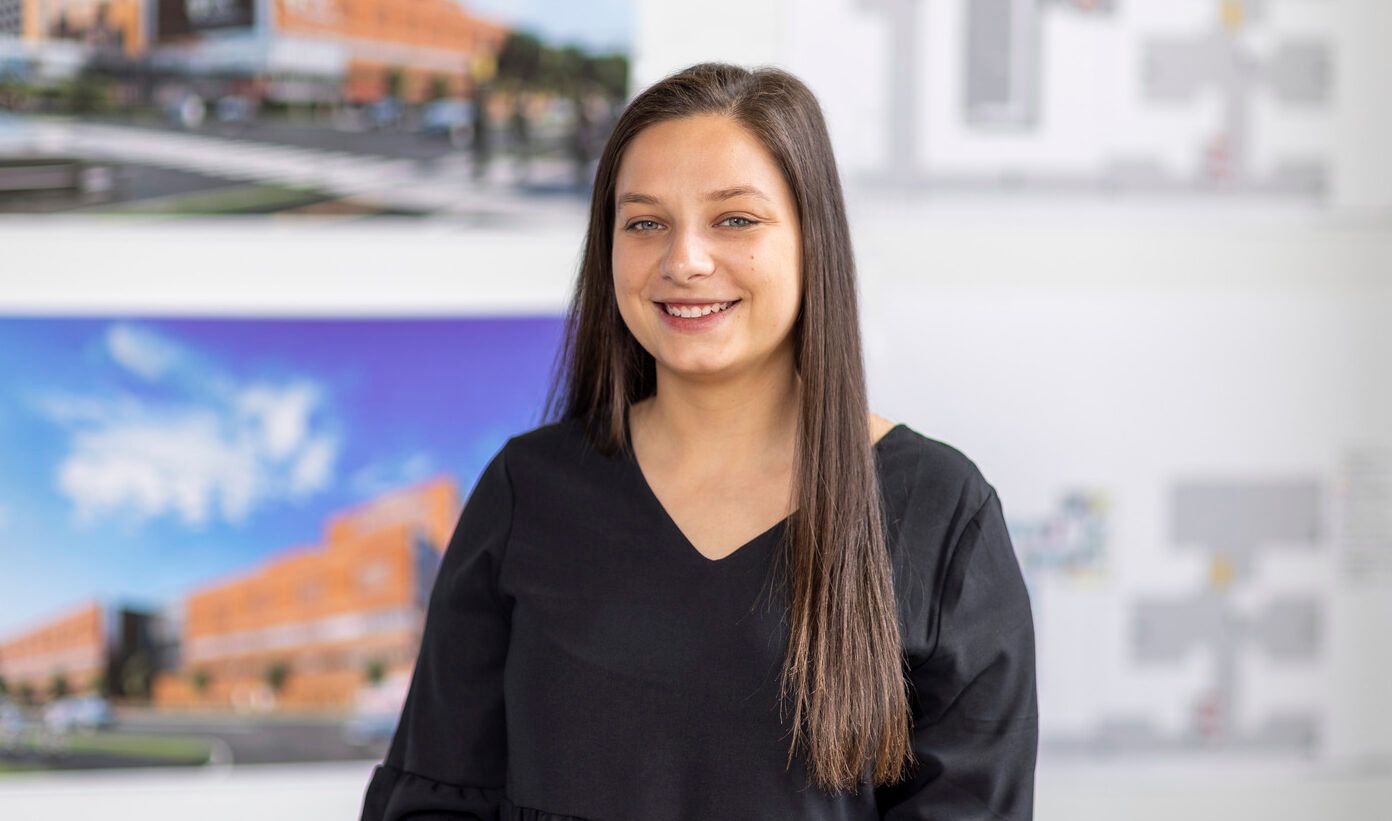 Courtney Petrella has never been afraid to ask questions. This spirited quality, coupled with her deeply analytical nature, have served her on her journey to becoming a Ballinger employee. "I think that asking well thought out questions and not shying away from suggesting new ideas translated my desire to learn and grow to my co-workers early on," said Courtney, who leveraged her experience during three summer internships to swiftly ascend to the position of healthcare planner.
When she expressed interest in healthcare design at the beginning of her initial internship, she was quickly introduced to leaders in Ballinger's healthcare planning studio. Establishing those relationships allowed her consecutive internships to be thoughtfully curated – working on progressively more complex projects each summer for healthcare clients like Children's Hospital of Philadelphia, Cooper University Health, and University of Rochester Medical Center.
"Watching my mentors communicate ideas to each other, to clients, and to clinical users really helped me understand the craft of healthcare planning. As an intern at Ballinger, I always had a front row seat," she said.
Recently, Courtney was invited to join Ballinger Senior Principal Louis A. Meilink, Jr. FAIA, FACHA, ACHE at Texas A&M University to speak about the process of planning and designing a multi-building expansion project for Inova Health. Preparing to speak to a group of architecture students on the precipice of their careers gave Courtney the opportunity to reflect on how she arrived at her position and how she honed the skills that led to her success so far. "Ballinger's culture makes every person on the team feel like they have a voice – regardless of experience level – which boosted my confidence. Strengthening my communication and design skills, absorbing the context behind major strategic decisions, and understanding critical workflows all helped build the foundation now utilized to thoughtfully present ideas to our clients."
Courtney's advice to other students considering an internship at Ballinger is, "Throughout your experience, find ways to gain insight and knowledge from every task, even the day-to-day. Each task is a learning opportunity and a stepping stone to something broader. Take time to establish relationships with the people you are working with closely – talk about your passions inside and outside of architecture, and ask them about theirs. Most importantly, don't be afraid to ask questions."
Interested in learning more about how a Ballinger internship could springboard your career journey? Find out more here.