Penn Medicine

a cancer center's inspiration and influence comes from natural systems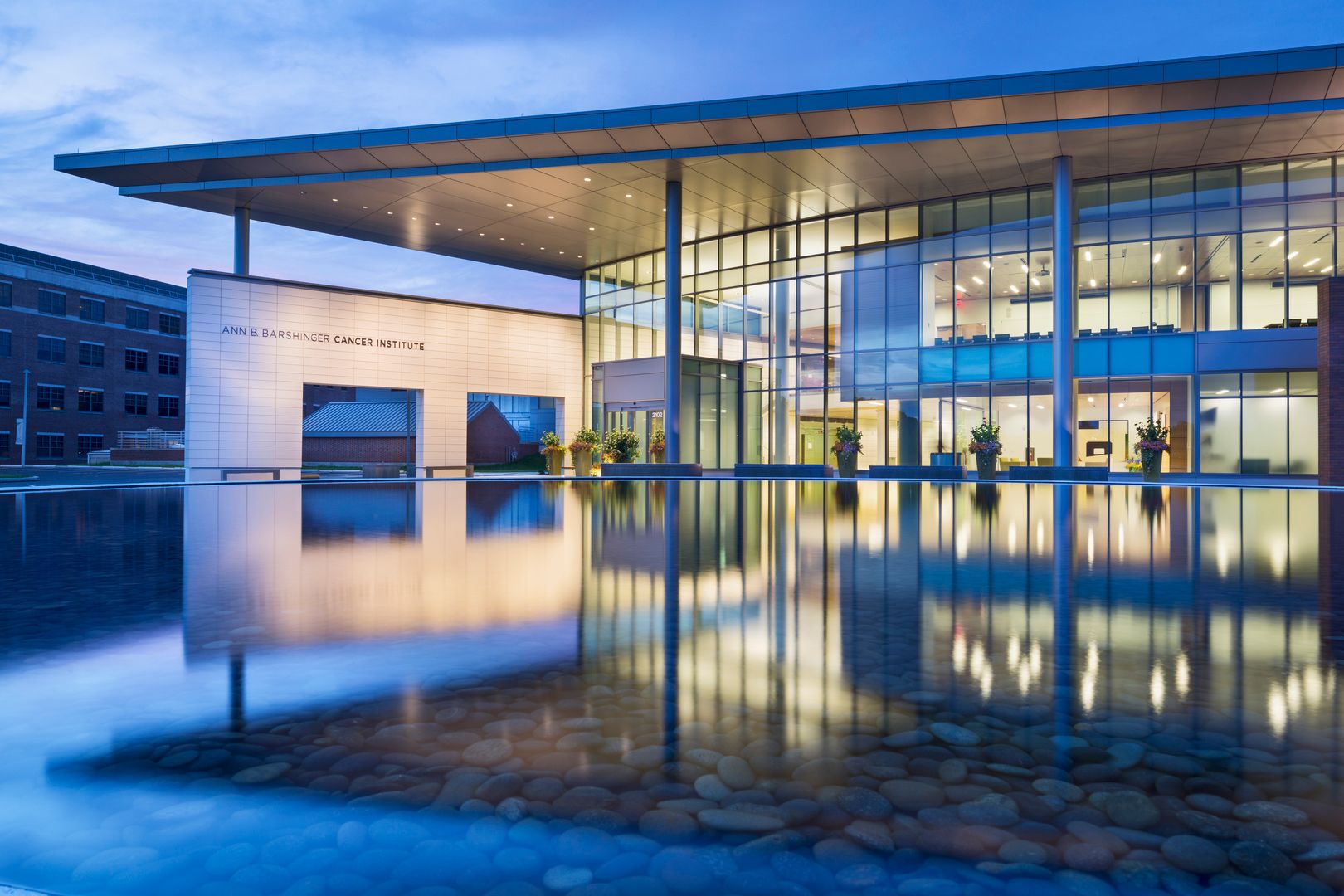 Penn Medicine
Ann B. Barshinger Cancer Institute
Nature helps heal. In recent years, research has proven its significant impact on patient recovery, and its positive influence on staff performance. That is why, when Penn Medicine Lancaster General Health set out to expand a 1980s-era cancer treatment center, Ballinger approached the project with biophilic building design in mind, despite a starting point that was less than nature-oriented.
The original center was an outpatient facility attached to a suburban medical mall, and was set into what has been the standard landscape for that building type: traditional lawns and surface parking. However, the existing parking court did inspire the concept for the new 100,000 SF building, because of its shape: it was, like much of nature, curvilinear.
Putting nature center stage transforms a simply functional space into a healing place
From that, the Ballinger team derived the radial form of the new 100,000 SF building and its focal point: a central courtyard healing garden, planted where the paved parking court had been. Inside the garden sits a meditation pavilion and around it, the main building curves. Patients receiving radiation or infusions on the upper concourse can gaze out at the garden, which is designed for year-round interest. They can also step out onto a porch with treetop views.
That access to natural light and open air, along with the artwork decorating the interiors, distinguishes the building from the usual healthcare setting and gives it a feel that is far from clinical. With cancer becoming a chronic and ever more prevalent illness, more and more people will spend increasing time in cancer-care facilities, adding to the importance of design features like those found at the new Ann B. Barshinger Cancer Institute.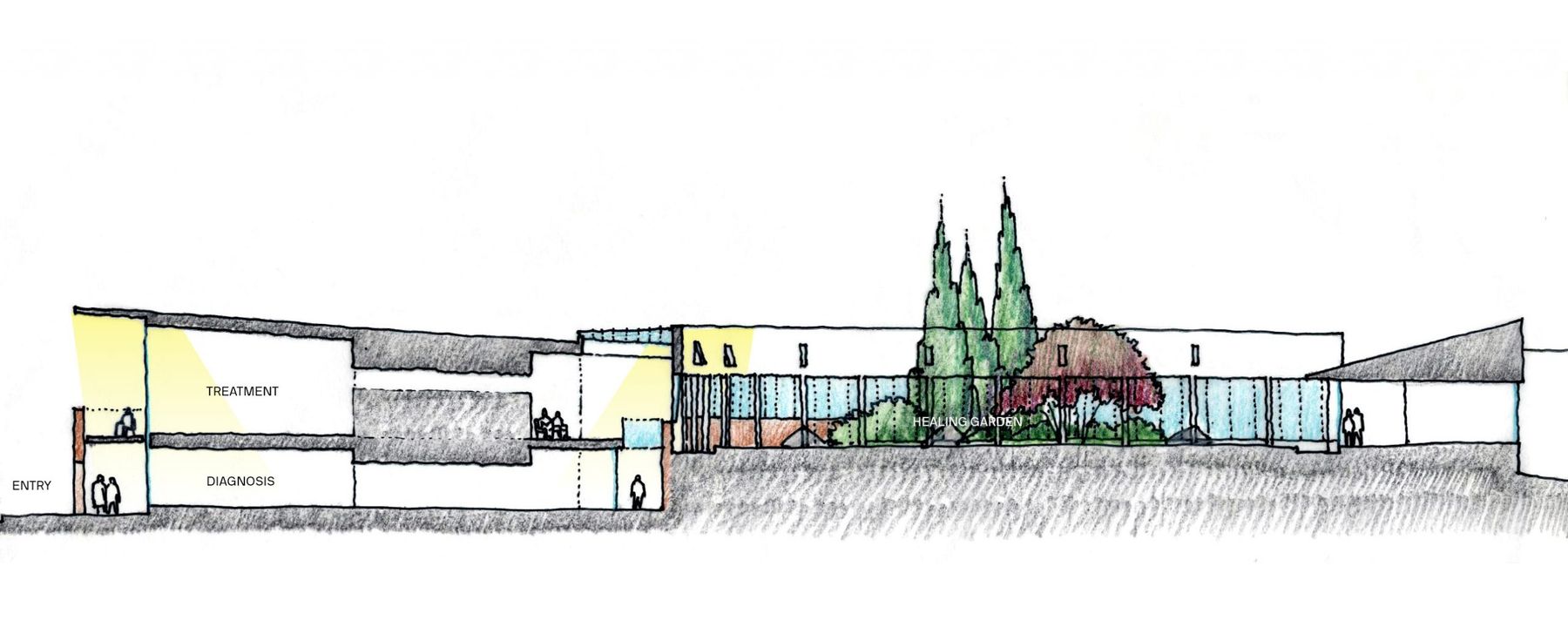 Reflecting nature with design strategies both pronounced and subtle magnify its positive effects
A concentric skylight allows sun to bathe both levels of public circulation, while scuppers and downspouts capture the sound of rain. In the entry court, a circular pool reflects the sky, and the major materials of the interior – wood, terracotta, and terrazzo – are natural. Every element of the new center is designed to heighten the relationship between the people inside the building and the natural systems outside it, supporting a challenging healthcare journey in a way that is both innovative and fundamental.
"The interior garden, the landscaping and siting of the building to allow just the right light, create a connection between the indoors and outdoors and the desired appreciation of nature."
Randall A. Oyer, MD Medical Director, Ann B. Barshinger Cancer Institute
Evaluating the design decisions post-occupancy supports the biophilic strategy
While the design decisions shaping the building were evidence-based, it is important to study those decisions post-occupancy to determine their effectiveness. Some 20 months after the building was completed, Ballinger conducted an evaluation through surveys and interviews. Among the findings are that the integration of nature into the building dramatically improved the patient experience, with 100 per cent of those surveyed satisfied with the design strategy. One respondent noted that the garden and daylight bring inner peace, while another remarked, "It's nice to have a beautiful place to go when you are not feeling your best."
American Institute of Architects / Academy of Architecture for Health
Healthcare Design Award
Associated Builders and Contractors Keystone
Award of Excellence
Healthcare Design Showcase
Honorable Mention
Illuminating Engineering Society North America
Illumination Award of Merit
Illuminating Engineering Society Philadelphia
Philament Section Award
International Interior Design Association Philadelphia
Design Excellence Award
Interior Design Magazine
Best of Year Honoree
World Architecture News
Healthcare Award Finalist
International Academy for Design and Health
Highly Commended, Use of Art in Public and Private Spaces
International Academy for Design and Health
Winner, Interior Design